Allison Lee offers advice on licence fees, dealing with members of the public who touch or stroke minded children, and provides some simple 'Teddy bears' picnic' activities
Expert advice
Licence to play
Some childminders appear to have received letters demanding that they pay a 'licence fee' because they show videos or DVDs, or play CDs or cassettes to the children in their childminding setting.
Childminders who work in domestic premises do not require a special licence to show films or play music to children in their care.
However, you do need a television licence and the cost of this can only be claimed as an expense if you can prove that you only use the television set in your childminding work.
Q & A
I am a childminder who often takes the children on outings. I have noticed that some people (often older men) can't resist stroking or touching the youngest child on the head or under the chin. This frequently happens if the child is sat in a shopping trolley. How can I stop people from touching the baby or toddler? The children are often anxious, but I am also concerned about safeguarding children.
This can be a difficult situation to deal with because it is highly unlikely that the person in question is intending to cause any distress to the child, and they may well be very upset if they thought this was the case. Perhaps a polite comment about the child being shy might work, before swiftly moving on. With regard to safeguarding children, although it is paramount that we are vigilant when caring for children, this isn't really an issue here because you are with them all the time, and therefore nothing untoward can possibly happen. It is important to keep things in perspective, both for our own benefit and for that of the children.
Activities
Picnic time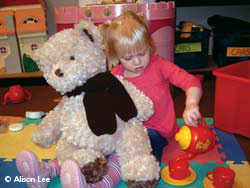 Have your own teddy bears' picnic
Personal, Social and Emotional Development
What you need
Child's plastic teaset; plastic play food; teddy bears; tablecloth, blanket or mat.
What to do
Lay out the tablecloth on the floor. Invite the children to use the teaset and play food to set up a picnic for the teddy bears to enjoy. Encourage them to take turns to pour the drinks and share out different items of play food on to the plates.
A note to childminders
After 15 years of childminding, Allison has decided to retire, and so will no longer be writing Childminders' focus.
However, we will continue to support home-based practitioners in our regular themed activities, and throughout the magazine.
In the meantime, we would like to thank Allison for her invaluable contribution over the past few years and wish her well for the future.
Make a face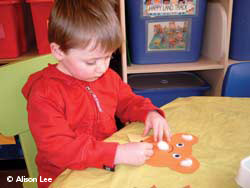 Decorate teddy bear faces
Creative Development
What you need
Stiff card; cotton wool; sequins, glitter; glue; scissors; felt-tipped pens; marker pen
What to do
Cut out a circle of card for the teddy bear's head. Cut out two smaller circles for ears and cut out a bow tie.
Encourage the children to colour the bear's head and ears brown, and the bow tie in a colour of their choice.
Stick the ears to the head. Using a marker pen, draw the eyes and nose on the teddy bear's face. Stick cotton wool to the inside of the bear's ears.
Attach the bow tie to the bottom of the bear's head and invite the children to decorate it with sequins and glitter.