Each of the poems in this leaflet treats the subject of the senses in a different way. The first plays with words and double meanings; two draw on a seaside context, linking to On-screen resource 2 while 'Using my senses' uses everyday situations to explore each sense. The two longer poems use repetition. Children with a good phonic knowledge should be able to read these poems independently.
Thhes teachers' notes accompany the PRINT ONLY guided reading leaflet in Literacy Time PLUS Ages 5 to 7, July 2009.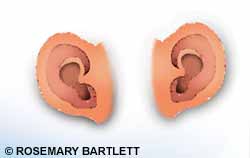 Before reading
Revisit what the children understand about the senses, referring to science activities or On-screen resource 2.
Look through the leaflet and discuss what kind of text it is. What do the children know about poems and poetry, including how they affect the reader? Briefly consider how poetry often looks different on the page when compared to other texts.
Recap some decoding skills pertinent to the group – eg, basic phonic skills, such as vowel patterns or suffixes. Alternatively, if decoding is reasonably secure, focus on wider strategies to support comprehension – eg, model how to work out what sapphire might mean in 'sapphire sky and yellow sun!' by reading on to yellow sun.
Ask the children to read each poem more than once, experimenting with intonation and phrasing.
Read the titles together and ask the children to choose the poem they would like to read first, reminding them that they do not need to read the leaflet from front to back.
Follow-up to guided reading:
Read and compare other poems about senses.
Paint pictures to illustrate each verse in 'Using my senses'.
Make up new verses that draw on the children's experiences or use props and artefacts to provide inspiration.
Reading the poems
You may prefer to read the leaflet over two sessions to allow you to focus on a range of elements. Support each child to read the poems they have chosen, ensuring they apply their phonic skills as the first approach for new words.
Encourage them to reread phases and sentences where they have taken time to work out words.
Look at the layout and the punctuation and try to use these to improve the children's reading of each poem.
The activity sheet below provides some notes for the children to refer to when reading these – or any poems – aloud. Give them copies to keep in their reading journals or to take home with their reading books.
Responding
Ask the children to explain:

which poem they chose to read first and why;
what they liked about the poems;
the pictures they conjured up in their head.

Ask each child to read aloud a part of one of the poems they liked.
Use the following prompts for additional guided sessions.
Holiday in colour
What might the scarlet band be?
What do you think a 'blue breeze' would feel like?
What do you think pink-striped ices taste like?
Think about the colours used in the poem. Can you think of any other seaside colours that you could see, hear, taste or feel?
What colours would you see, hear, taste or feel in a forest or other settings? Use paint colour charts from your local

DIY

store to stimulate ideas.
Notice the repetition, order change and layout in 'sky, sun, sea and sand'.
Literacy Framework
See the Using this issue chart to identify the Learning Objectives covered by these activities, to track progression from Reception through to Year 3, and to identify links with Year 1 and 2 Planning Units.
Five Little Senses All in a Row
Discuss the play on words.
Choose one line and illustrate it.
Using my senses
Notice how each verse is introduced, with the sense-related action and the repetition of the beginning of the next line with a substituted adjective.
Use this structure to write substitute verses for each sense.
The Shell
Have the children ever listened to a shell? Provide a shell and try it. Describe what you hear.
Provide other natural objects – eg, a damp log, dried leaves – and imagine what you taste, hear, smell, see or feel.