Case study (creativity): Setting the wheels in motion
22 June 2009
Add to My Folder
Discover how the performing arts can help rouse creativity and take children on a learning journey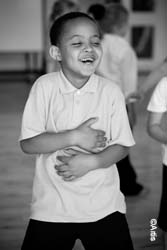 Artis Specialists use the performing arts to help children learn while having fun and expressing themselves
Every week over 25,000 children around the UK are improving their learning skills through a unique combination of music, drama and movement. This creative curriculum has been carefully designed with some of the UK's finest and most celebrated performing artists; from DJ Nitin Sawhney, voice specialist Lin Marsh, and solo percussionist Dame Evelyn Glennie.
This fusion of music, drama and movement is delivered via Artis – a programme designed to stimulate creativity and excellence in education through the performing arts. It was set up by innovative educationalist Rebecca Boyle, or Buzz (Artis Specialists adopt onomatopoeic names). Since its launch, Artis Specialists have been working to build children's confidence, and improve their behaviour, communication, listening and leadership skills.
Tailoring the curriculum
Every Artis session combines the three performing arts of music, drama and movement, to enable children to learn by having fun and being creative. Artis sessions link closely to themes in a class or year group's curriculum plan and a specific curriculum is developed to enrich creativity tailored to a school's needs.
'We feel children learn best in a way that's all embracing, when themes and subjects link to physical, artistic experiences,' says Rebecca. 'Our job at Artis is also to transform creativity into knowledge and to teach knowledge creatively. We don't have wrong answers, only new ideas; we don't do competition, instead we unlock the talent and gift of individuality that turns remarkable children into remarkable adults.'
How to get involved
There are different ways to help meet the cost of Artis services, whether a programme is tailor made to fit a school's budget or taps into particular funding streams, such as Extended Schools. Most schools pay for Artis out of their school budget for a set number of days a week through the year, giving them continuous provision. However, if that's not possible, a shared contract across several schools could be set up, perhaps within a local authority or as part of a local consortium. A third-party organisation could also contribute to or fund the Artis service. For example, Burghclere Primary School in Hampshire has part of their Artis provision paid for through a local charitable foundation, The Greenham Common Trust.
There is also a new, short-burst project menu that is ideal for special or one-off events, such as an arts week. The Mind the Gap project is tailored specially to help Years 6 and 7 children with the transfer from primary to secondary school meaning that both schools could share the cost. If you are interested in becoming an Artis school, visit www.artiseducation.com
Performance in practice
Mayespark Primary School in Ilford, Essex, has been involved with Artis for four years. The teachers are in no doubt about the impact Artis Specialists have on their children. 'In the first couple of years, children's creative writing became so much stronger and our Key Stage 2 SATs results in writing showed a marked improvement,' says Deputy Headteacher, Penny Teece. 'Artis is an integral and important part of the curriculum Mayespark offers. Specialists are part of the team, working alongside us to produce creative learning that impacts on core curriculum subjects, literacy in particular.'
And, it's not just the curriculum that Artis is having an impact on: 'I have also noticed a general, progressive improvement in the way the children interact with one another, not just with their friends but as a collective class or group,' Penny continues. 'As individuals, they gain a greater sense of self when performing, and more awareness of their physical and verbal expression. Creativity in primary learning is important, and throughout the Artis sessions we have found children's imaginations to be more stimulated, contributing to more inventive writing sessions back in the classroom. It was no wonder that Ofsted described our Artis work as a strong feature of the curriculum during their last inspection.'