Discover an archaeological-themed unit of work that uncovers the wonders of the Saxon burial site, Sutton Hoo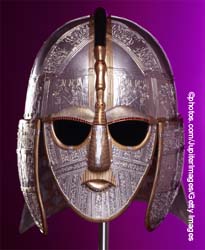 Replica of the Sutton Hoo helmet. Contact: Sutton Hoo, Tranmer House, Sutton Hoo, Woodbridge, Suffolk IP12 3DJ, Tel: 01394 389700
This summer sees the Festival of British Archaeology (18 July to 2 August 2009) and the 70th anniversary of the discoveries at Sutton Hoo making it the perfect time for an archaeology-themed creative topic. Digging up the past and discovering historical treasures should not be confined to the world of Indiana Jones as there are lots of opportunities for discovery, learning and adventure in the classroom. The archaeological missions that make up this month's creative topic focus on Saxon artefacts and the history surrounding the Sutton Hoo Saxon burial ground. Particularly through the use of drama, this topic aims to place children's learning into a real-life context – to bring the past to life and set the scene for an unforgettable cultural experience.
As with all the Junior Ed PLUS creative topics, the ideas included make for a fantastic cross-curricular teaching unit, but can equally be adapted and tailored to suit your own space and time constraints. If using all five Saxon mission statements is too much, pick out the individual activity ideas from one or two that you feel you could incorporate into your current timetable. We always love to hear how you've used or adapted our ideas on our forum, 'teacher talk.'
Access the full, five-page creative topic in PDF format and save it to your 'My folder' until you need it.
This resource is available to subscribers only.
To access this, and hundreds of other resources all ready for you to use, find out why you should subscribe to Junior Education PLUS today!