Discover a cross-curricular unit of work that places a holiday topic in a fun, real-life context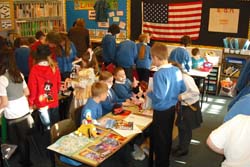 Jan Randall, with Mel Lever, teaches one of the parallel Year 5/ 6 classes at Nursling Primary School in Hampshire. Here, Jan explains some of the learning tasks that the two classes did as part of a thematic, cross-curricular unit of work called The Holiday Show from the International Primary Curriculum (IPC)
Travel exhibition
'As typical of IPC units, the Entry Point into The Holiday Show topic provided an exciting introduction to the work ahead. In this case, the children were asked to plan and prepare a stall for a travel agency exhibition. This involved working in pairs, selecting a country, researching its best features for potential holiday-makers, and collecting pictures and relevant props to display at the exhibition.
The work allowed for a whole range of learning styles and every child was challenged at their own level
On 'event day', the children spent the morning creating promotional leaflets for visitors. In the afternoon, Year 5 visited the Year 6 event and vice-versa. Each visitor was asked to choose three countries that they'd most like to visit based on what they saw at the exhibition and take notes on the country.
Participation by the children was remarkable; preparing for a real audience showed in the effort that they made. This was also an excellent activity for developing speaking and listening skills because the children had to persuade visitors to choose their destination.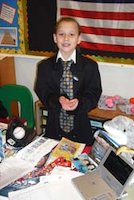 Multicultural music
'As part of our work on The Holiday Show, the children also looked at how art and music can be used to represent a holiday destination. To highlight this, the school invited a Taiko drummer, Carol West, to come in, perform and work with the children. Taiko drumming requires a disciplined approach in order to play the rhythms correctly and the children picked them up very quickly. Some of the drums were so big that three children were able to play one drum at the same time! This meant that they had to work and react collaboratively to produce an effective sound. Parents were invited into school for the last 15 minutes of the musical workshop so preparing for this mini-performance helped the children remain engaged all the way through the activity. Afterwards, during the next 'Holiday Show' lesson, the children discussed how Taiko drums are associated with Japan, and also considered the musical influences from other countries on pop music in the UK. In addition, the children enjoyed singing two songs in languages other than English, one in a four-part round.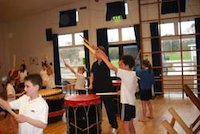 Mapping out a destination
'As part of our work on The Holiday Show, the children looked at a variety of different maps, using a world map to help locate different countries, as well as thematic maps to investigate locations further. The children then researched two different destinations, comparing them as suitable holiday spots based on the information that the maps provided. The children then produced their own maps, including a key to provide necessary information, on an imaginary holiday destination of their choice. As a group, we also discussed tourism and its effect on a destination.
Improving learning
'Developing research skills, the class had to decide upon the six best questions to ask in order to make good decisions about choosing a holiday destination. They created a valid set of responses, formed a questionnaire, completed a survey and made graphs. They used their research to identify patterns in holiday-taking and the more able children used their mathematical expertise to describe their findings using percentages.
Further information
Jan Randall and Mel Lever were teaching The Holiday Show unit, one of 80 thematic units of work for children from Early Years to age 12 from the International Primary Curriculum. The IPC is used in over 51 countries throughout the world including over 430 UK state primary schools. It provides a rigorous teaching framework and thematic units of work cross-referenced to National Curriculum guidelines, enabling teachers to spend more time developing creative learning opportunities in the classroom. The IPC is a part of Fieldwork Education which, since 1984, has been helping schools all around the world to develop children's and student's learning through curriculum, professional development, school management and assessment.
To visit an IPC school near you or for a free sample of another IPC unit and more information go to www.internationalprimarycurriculum.com or call IPC at 0207 531 696.
The foundation subjects, numeracy and literacy were integrated throughout The Holiday Show unit so the children were constantly making connections. This is, after all, what good learning is all about, and because the unit lasted for several weeks, we were able to block the learning to work around specific tasks and timetable constraints. Sometimes the children worked for a whole day or two on a particular activity instead of having to pack everything away at the end of a time restricted lesson. As a teacher, I love that about the IPC Units. The work allowed for a whole range of learning styles and every child was challenged at their own level. There was lots of collaborative learning, and speaking and listening skills were given a real purpose. All the learning related to National Curriculum guidelines and this was identified in the IPC Learning Goals and National Curriculum cross reference document provided by the IPC – something I found very reassuring.
Celebrating an international world
'The engagement by all the children throughout the unit was fantastic! I loved it, too, because it is so relevant to today's international world. It was purposeful learning for the children, helping them to make sense of the real world rather than living and learning in a junior school bubble!'