Read our reviews as we dig up the best treasure and pirate books around!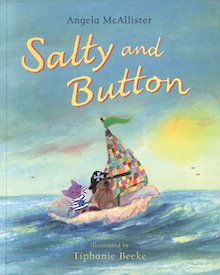 Salty and Button by Angela McAllister and Tiphanie Beeke (Macmillan,
ISBN 9780230016590

)

This is a heart-warming story about friendship and bravery, which my whole class really enjoyed. It encouraged a discussion of overcoming our own fears and helping our friends. Salty the heroic dog and his friend Button, a timid cat, love playing pirates, and one day follow the smell of a 'real adventure.' After overcoming many obstacles and a terrible time at sea, Button has to step in to save the day and is, in Salty's words, 'a true hero.'

The illustrations are fantastic and emotive, which make the book a lovely one to share. The children were also keen to continue reading and looking at the pictures on their own afterwards. Lauren liked it when 'Button saved Salty because he had to be a brave shipmate.' Kaitlynn loved 'the sparkly, shimmering colours that look just like water.'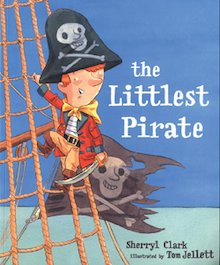 The Littlest Pirate by Sherryl Clark and Tom Jellett (Happy Cat Books,
ISBN 9781905117888

)

This book has a lovely message 'to keep trying no matter how small you are.' Nicholas Nosh isn't allowed to go to sea with his parents because he is too little. Eventually, though, he has to use the broken spare ship with its lazy crew to save his kidnapped family from Red Beard. Nicholas uses all sorts of hilarious ideas on his adventure, including the cook's toffee sauce and caramel puddings instead of cannon balls.

The illustrations are very animated; there was a roar of laughter from the children when they saw Red Beard's toe in the air! It was Luke's favourite book because 'in the end Nicholas gets his own ship with a funny name.' The children thought the story was amusing and loved the names of the pirates and their ships. In fact, they have now named our pirate role-play area The Salty Dog!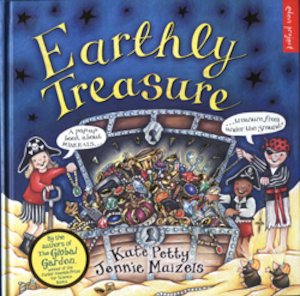 Earthly Treasure by Kate Petty and Jennie Maizels (Eden Project Children's Books,
ISBN 9781905811021

)

This was by far the class' favourite book and one they would all recommend. It had them enthralled for hours. Earthly Treasure is a pop-up non-fiction book about minerals. Children can search and discover the 'treasure chest' of information on every page by opening up flaps, pulling tabs and inspecting smaller books.

Evie took great pleasure in the fact that 'you can move nearly everything on each page.' One of my children even asked if I would tell his mum to buy it for him! The book is extremely interactive, with detailed drawings and activities for the children to get involved in. My class would like me to buy some others from the series, which I will definitely be doing if it gets them so excited about non-fiction books!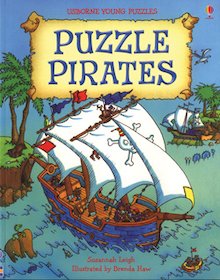 Puzzle Pirates by Susannah Leigh and Brenda Haw (Usborne Young Puzzles,
ISBN 9780746074381

)

Joe is at pirate school and receives a message in a bottle from his uncle, Buccaneer Bill, asking him to help find some treasure. The children really enjoyed looking through the book to solve the puzzles and help find the treasure. The book has so many different things to look for, and the pictures are bright, colourful and detailed – it would keep my children absorbed for the day if they were allowed! There are lots of things to spot, as well as a story puzzle on each page.

Puzzle Pirates is a book that we enjoyed as a class and that the children have been eager to read and use independently. We have other puzzle books, but none with an exciting story to follow as well. Josh and Tejay said that they liked 'having to find Colin the parrot on each page and that the puzzles weren't too easy!'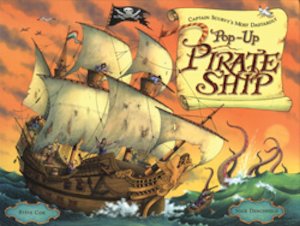 Captain Scurvy's Most Dastardly Pop-Up Pirate Ship by Nick Denchfield and Steve Cox (Macmillan,
ISBN 9781405021692

)

The gasp of surprise from the whole class (and me!) when I opened this book was amazing. This is the most intricate pop-up book I have ever seen; we were in awe of it. The story follows Captain Scurvy, who tells of his plundering and exciting journeys – all in genuine pirate vocabulary. Jack enjoyed 'learning to speak like a pirate!'

There are characters, rafts and other parts to make and use with the ship. At first, the children were reluctant to use the ship; Millie said she 'didn't want to damage it' and most of the children were more interested in looking at the beautiful painting and different parts of the moving picture. However, the model is very sturdy and it didn't take long for the children to use the structure and props to act out their own pirate adventure!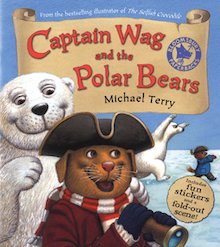 Captain Wag and the Polar Bears by Michael Terry (Bloomsbury,
ISBN 9780747597827

)

This is another book my class were very fond of because of the pirate vocabulary and names, and have enjoyed thinking of pirate names for themselves ever since! Captain Wag finds a message in a bottle from his arch-enemy Captain Ginger Tom, and goes to rescue him from 'hungry-looking polar bears' in the far North. They find the ship stuck in a glacier and there is a surprise twist when the polar bears want to help, which the children found interesting. Aston thought it was a 'good story about helping others.'

The illustrations are excellent, as you would expect from Michael Terry (his other work includes The Selfish Crocodile), especially the blizzard scene which Emily said 'looks like very cold swirling snow getting everywhere!' This story of the pirates' exciting journey and lovely pictures make this book ideal to read aloud to the class.