Teaching a mixed-year class presents many challenges but it can also boast huge rewards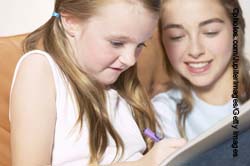 Typically, there's more of a 'family' atmosphere within a mixed-year class
Primary schools come in all shapes and sizes, from the large urban school to the small rural primary. Some schools mix up year groups out of necessity; others make a conscious decision to create mixed-year groups as part of their approach to teaching and learning. In any case, mixed-year groups can help a school to stretch its most able children, while focusing support for those who need it. Whatever the reason behind a mixed-year class, successful learning starts with differentiation and personalised target setting for each child.
Challenges and advantages
Sara Chidzey, teacher at Stanton Drew Primary School, Somerset, is experienced in working with mixed-year classes. 'You've got to get to know the children first,' she advises. 'I quickly get a feel for the levels they're at, usually within the first week.' One particular challenge with a mixed-age class is the danger that the more able children may not be stretched as much as they might be in a single-year class. Sara suggests targeting the older children with more challenging questions, for instance by using increasingly complex vocabulary or more complicated techniques.
'The secret to teaching a mixed-year group is to think about how the same subject can be approached in different ways'
Working with a mixed-year group can also have many advantages. For example:
The class size can be smaller than average, particularly in a small school.
Older children act as role models.
Typically, there's more of a 'family' atmosphere within a mixed-year class.
Able children can be pushed to work at a level/year or two above the norm.
The situation mirrors the home setting with younger/older siblings.
Transitions between years and key stages are generally much smoother.
Teachers become highly skilled at differentiation – a key skill for teaching success, whatever the type of class.
Teaching tips for mixed-year groups
Seek advice from your class' previous teacher – set up meetings with them towards the end of the summer term.
Base your approaches and target setting on a child's prior attainment, rather than on their age.
Make full use of any support staff.
Set activities where children can work with and teach each other.
Find activities that the whole class can access, but at different levels.
Encourage independent learning so that children work at their own levels.
Remember that a child might be very able in one subject, but weak in another. Take these variations into account when you're planning.
Use resources to help you differentiate.
If you're staying with the class for two or more years, consider a two- year planning cycle. (Find samples at The Lancashire Grid for Learning and Hamilton Trust (see 'ICT links').
Encourage older children to nurture the younger ones, and to act as 'experts' and role models for them.
Vary your groups, for example by age, ability, interest, year group, topic, friendship or need for support.
Practical lesson ideas
Online extras!
Here are just a few of the fantastic resources available that you could use with some of the mixed-year group lesson ideas detailed.

Compare different materials with our colourful poster (subscribers only).

Improve children's French vocabulary with our drag-and-drop games. (Food game – all readers; rest of series – subscribers only).

Activities
The secret to teaching a mixed-year group is to think about how the same subject can be approached in different ways. Below are some ideas about how to teach different lessons in a mixed-year class. Despite the fact the lessons below have been categorised into year groups, remember that objectives should also be based on a child's prior attainment as well as their age.
Year 3/4 science:
Ask the class to identify and talk about a range of materials – metal, wood, plastic, and so on. Year 3 should sort the materials into groups and talk about the reasons for their groupings (shiny, hard, smooth, and so on); Year 4 should discuss the materials' suitable uses.
Year 3/4 music:
Ask the children to work in groups to create and notate a piece of percussive music. Year 4 children could use several layers of sound and talk about the intended effects. Year 3 children could create a set of symbols to write down their composition, with Year 4 children experimenting typing the symbols up on the computer.
Year 3/4/5 history:
Invite Year 3 children to talk about how their lives are different from those of the Ancient Romans and create some labelled pictures to illustrate this. Year 4 children could create a timeline to show key dates and events, while Year 5 children could write a diary entry about a key point on the timeline. The whole class can then combine their work together in a display.
Year 4/5 literacy:
While working on a story, ask Year 4 children to organise their writing into paragraphs. Year 5 children could play around with the order of paragraphs to see the different effects they can achieve.
Year 4/5 maths:
As a whole-class starter activity, get Year 4 children to answer questions on the two and four times tables, set by Year 5 children. You could also ask the Year 5 children some questions from the six times tables that the more able Year 4 children could attempt to answer as well.
Year 4/5/6 PE:
Invite Year 6 children to choreograph a short dance. Afterwards, ask Year 4 children to identify what was good about it, while the Year 5 children could suggest some improvements. The Year 6 children could then teach their sequence to the rest of the class.
Year 4/5/6 geography:
During work on a 'Holiday' topic, ask the class to talk about their ideal 'paradise island'. Years 4 and 5 could create a map of their island using their own symbols, while Year 6 could add standard map symbols and compass points.
Year 5/6 art:
Get the class to work together to create a 'sculpture park' in the school grounds. Ask Year 5 children to collect visual information during a whole-class visit to a local art gallery to inform their work. Meanwhile, Year 6 children could investigate sculptures on Easter Island before writing up an extended project (perhaps as a homework task) that they can then present to the Year 5s. At the opening of the 'sculpture park', more confident children could give a speech about what they've been learning about.
Year 5/6
MFL

:

Divide the class into pairs, with a Year 5 child working with a Year 6 child. Give the pairs a script in the target language and ask them to read it together, with the Year 6, or more able child, working out the meaning of unfamiliar words.