Excite children about the past with this engaging assembly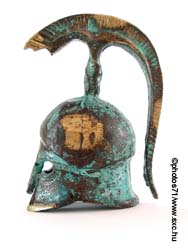 Online extras!
Don't forget to check out our fantastic creative topic on the Saxons and Sutton Hoo — available in the July '09 issue of Junior Education PLUS and as a PDF for subscribers to save to the 'My folder' facility.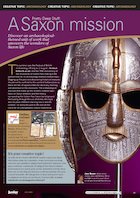 The topic is accompanied by a stunning poster of archaeologists discovering the burial site at Sutton Hoo (available online for subscribers until 22 July '09) and a set of activity sheet activity sheets.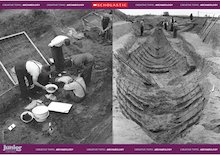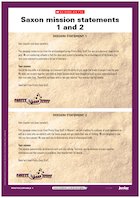 You will need:
Replicas of old pottery, jewellery, and so on (often available from museum and library loans services); images of Ancient Romans, Egyptian mummies (especially the famous gold mask from Tutankhamun's tomb) and Vikings, and two volunteers – one with a mobile phone and one with a lunchbox.
Introduction
Explain that this assembly is about archaeology and archaeologists and how they discover objects from the past. Many of these objects help us to understand how people lived and can include the kinds of clothes, jewellery and tools that they used as well as the kinds of food that they ate. The Festival of British Archaeology from 18 July to 2 August '09 aims to celebrate British archaeology offering excavation open days, hands-on exhibitions and stunning displays around the UK.
Main assembly
Ask the children if they watch programmes such as Time Team and find out what they know about how archaeologists dig up and discover objects such as jewellery, pottery and even buildings.
Share the story of archaeologist, Howard Carter, who spent years digging in the deserts of Egypt before he found the tomb of Tutankhamun in 1922. This was such a tremendous discovery of artefacts that it took ten years to catalogue everything.
Ask what kinds of things archaeologists find preserved. Say that gold, silver, bronze, pottery, some fabrics, bones, bricks and wooden structures have all been found preserved in the ground or peat bogs.
Talk about what metal was used for in the past – Ancient Roman coins and Viking swords and helmets, for example. Pottery can tell us about how the Ancient Egyptians stored, cooked and ate their food. Grains and seeds can help us understand what people from the past ate, and wooden structures and other ruins can give us information about the houses they lived in.
Most of the children will know that skeletons and bodies are often found by archaeologists. These are very important because we can find out a lot from discovering burial grounds. Remind them again about Egyptian mummies and how important they are.
Ask your two volunteers to lie on the floor – one holding a mobile phone and the other a lunchbox. Ask what might be discovered about these two people in 3000 years time – the children will have to think about what will be preserved. Talk about the plastics and metals in the phone, food that might be preserved in the plastic lunchbox and some of the fabric from the clothes. What will these tell archaeologists of the future about how we lived? Which bits of the shoes or trainers might survive (the rubber soles, laces)? If the laces were found think how difficult it would be to work out what they were for if they were on their own without other bits of the shoe. If a pair of glasses were found what would they tell future archaeologists about what we know about lenses and eyesight?
People in the past were often buried with special things. Show the children the image of the gold burial mask found in Tutankhamun's tomb.
(Subscribers can access a poster of Tutankhamun — see above). What could we preserve that would tell future archaeologists about how we lived? It would be interesting to make a list of objects that could tell children of the future what games we played, what we ate, how we communicated, and so on.
Closing thought or prayer
When archaeologists find objects from the past, they often help them understand how our ancestors lived. If we can see our ancestors' belongings and where they lived, we can begin to appreciate that sometimes their lives were not so different from ours.