Literacy Time

PLUS

Performance Poetry Competition Winners
2 July 2009
Add to My Folder
Find out which budding young poets and performers will be spending a day with our Poet-in-residence, Paul Cookson.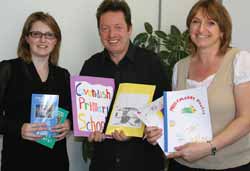 Claire Dowse, Director of Scholastic's We Are Writers!, Paul Cookson and Helen Watts, Literacy Time PLUS Editor (pictured) were joined on the judging panel by David Wray, Deputy Director and Professor of Literacy Education at Warwick University's Institute of Education, and Rebecca Wallis, Literacy Time PLUS Assistant Editor.
In January this year, we put out a call for budding young poets and performers, inviting them to enter our first ever schools' poetry competition. Here we reveal the winners – and announce which school will be spending a day with our Poet-in-residence, Paul Cookson.
How we picked our winners
Schools were invited to submit a written anthology of 15-20 poems on a theme of their choice, plus an audio recording or film of the children performing at least 4 poems. The judges were looking for:
evidence of the involvement of children of different ages and abilities;
originality, with interesting and unusual voices and approaches;
performance skills, with single and group voices and a variety of styles, techniques and genres;
fun, playfulness and the enjoyment of words.
Of the judging process, Paul Cookson said: "It's always great fun reading children's poems – and this was no exception. There were a variety of poems that made us a smile, nod appreciatively or just laugh out loud. The schools involved had worked really hard – especially with the audio-visual presentations – and it was fantastic to hear the children's voices live, as well as their voices in the poems. Congratulations to Brooke VC Primary School who won – much like Everton – on penalties. It was a close run thing. So thanks to you all … and keep on writing!"
1st place:
Brooke
VC C

of E Primary School, Norwich.

Every class in this village school took part, each working on a different theme or poetic style. They started by reading and performing poems by famous poets – including Brian Moses' 'Walking with My Iguana' and Wes Magee's 'Boneyard Rap' – before writing their own class poems. Some children also wrote poems individually and in small groups. They performed their work to the school on World Book Day before rehearsing and performing their recording for the competition.

To hear children from Brooke VC Primary School performing their poems, click here.

The judges were unanimous in their decision to award this entry 1st place, being extremely impressed by the quality of the audio performance. The performers were clearly having fun, and their use of percussion and sound effects was particularly successful. The rhythms and variety of voices used were very effective. "The written anthology was beautifully put together," said Helen Watts. "We felt that the children had drawn well on the inspiration of published poems, but had used such frames very creatively."

The school has won: a day's school workshop with Paul Cookson; a year's subscription to Literacy Time PLUS; publication of their poems in Scholastic's We Are Writers! book series plus 20 free copies; and a Paul Cookson poetry book pack.
Runners-up
Marshside Primary School, Southport
Every class abandoned lessons for a week of poetry fun to produce this school's entry. They started with creative writing workshops run by a local library, then the children wrote their own poems in pairs and groups. The week ended with an assembly performance, captured on video for the competition. The judges liked the range of poems presented, which included whole class and group performances, different voices and rhythms, and some great actions – especially the younger children's use of props for 'Down Behind the Dustbin'. Poems in the written anthology ranged from the humorous to the serious – and one, 'When I am an old man…' by Sam Kerr, stood out so strongly that Paul Cookson decided to choose it as the 'Poet's Favourite'.
Cavendish Primary School, West Didsbury, Manchester
This school's entry was spearheaded by Y5, who used all their persuasive skills to deliver an assembly in which they convinced staff and children to hold a school performance poetry day, and to let them go into every class to deliver a lesson on how to write a good performance poem. The results became the school's competition entry. The judges were impressed by the children's enthusiastic approach to the competition and their film proved that their poetry day had been a huge success. The children were clearly having lots of fun and were using a good variety of rhymes and actions. Their written anthology was packed with poems displayed in different ways and presenting many moods.
Poet's Favourite
'When I am an old man…'
by Sam Kerr, Age 9, Marshside Primary School.
Sam will be receiving a special individual prize: a signed copy of one of Paul Cookson's poetry books. Well done, Sam!
The two runners-up have each won: a Paul Cookson poetry book pack; a year's school subscription to Literacy Time PLUS; and five free copies of the We Are Writers! book in which their poems will be published.
Highly Commended
An additional Highly Commended award was given to Babraham Primary School in Cambridge.