Children have wonderful imaginations and love using them to create their own adventure stories. This audio-visual resource aims to stimulate their imaginations to produce stories that will excite both writers and readers.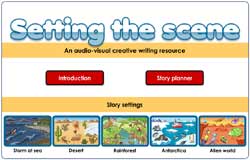 It comprises a set of five scenes, each including sound effects and pop-up text boxes containing background information and ideas for telling stories from different points of view and what might happen next.
Shared teaching and learning
Tell the children, in advance, that they are going to write their own adventure story in groups. This will allow them to mull over ideas in their heads. Let them choose their own groups of two, three or four, with at least one able child in each group.
Imagine yourself there
If you have an interactive whiteboard, take a digital photo of each group and download them onto your computer. Strip away the background and make the images of the children smaller. Now upload their images and overlay them on the setting of their choice. This is not only fun to do but will really fire the children's imagination, as they can see themselves within the setting and imagine the sights, sounds and smells around them.
About the author
Setting the scene and these teachers' notes were written by Hazel Bennett, author of The Ultimate Teachers' Handbook: What they never told you at Teacher Training College (978 08264 85007) and The Trainee Teacher's Survival Guide (978 08264 85076) both Continuum International Publishing Group, and Class Assemblies for Primary Schools (Educational Printing Services, 978 19056 37140). Visit www.hazelbennett.co.uk.
Further reading
The White Giraffe Lauren St John (Orion, 978 18425 55637). See also Poster 2 from Literacy Time PLUS Ages 9 to 11, Issue 60, May 2009. Return of the Mummy R L Stine (Goosebumps series, Scholastic, 978 04398 37781).
Get in the mood
Share some good examples of scene setting from published children's books, discussing how they capture the essence of the setting. For example, share extracts from Lauren St John's The White Giraffe or from Return of the Mummy by R L Stine. Discuss the ways in which the author paints pictures with words – similes, metaphors, alliteration, personification, the use of colour, strong verbs and interesting adjectives, and techniques for building up tension in the text.
Sharing the resource
As a class, read the Introduction screen and make sure that the children understand how to use the resource.
Now look at the Story settings menu and ask each group to decide on one of the five settings for their story: Storm at sea; Desert; Rainforest; Antarctica or Alien world.
Let the whole class look at the settings that each group has chosen and brainstorm some initial ideas as a class for each one. Ask someone from each group to act as scribe and note down the ideas.
Working in groups
Give each group time to study their chosen image and use the on-screen notes to get ideas for their setting. Again they can make notes.
Explain that most stories run better if they have been planned. Give each group at least one copy of the activity sheet plan below, which is also available to download through the main menu in the on-screen resource.
When the plan is formed, the group can begin writing the story with everyone contributing, and children taking turns to scribe and then proof-read and edit their work for errors.
When their stories are complete, with all mistakes corrected, they can make neat copies – either handwritten or typed – and illustrate them, perhaps with the overlaid pictures from above, if they made them, or their own drawings. Compile the completed stories into a class story book.
Literacy Framework
See the Using this issue chart to identify the Learning Objectives covered by these activities, to track progression from Year 4 through to Year 7, and to identify links with Year 5 and 6 Planning Units.
Plenary
Invite someone from each group to read extracts from their story to the rest of the class. Discuss how successfully each group painted a picture of their story setting. How might the story have differed if it were told from another point of view?