Poem in comic strip format by Paul Cookson and David Parkins, which uses word play to take a humorous look at the things parents say to their children.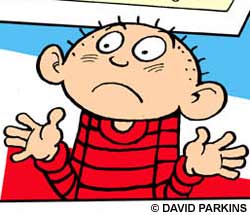 Background information
About 15 years ago, I had a letter from fellow poet and editor, Brian Moses, requesting poems for an anthology about parents, Parent-Free Zone. I began to think about what parents did, said, how they are embarrassing – all the usual things. I wrote a poem about parents telling you that watching television gives you square eyes, and how I'd never seen anyone with square eyes. I also wrote a poem about dads having wind (those never get chosen!).
But the one gem which emerged turned into 'Do as You Are Told'. After appearing in Brian Moses' collection, an edited version also appeared in Staying Out Late, Playing Out Late, but I was never 100 per cent happy with the way it sat on the page. So, when the opportunity came to put poems forward for a new collection The Truth About Parents, I sat down and, using stick figures, planned a cartoon strip that David Parkins interpreted brilliantly – as you can see.
Shared learning and teaching
Shared reading
Read the following introduction to the children:
Poet's note
My poem, 'Do as You Are Told', began in a school where I had been doing a workshop about what parents tell you to do. One of the children said that their mum had told them to: "Put your shoes and socks on". I took off my Size 8 green Dr. Martens®, removed my stripy yellow socks and then replaced them in said order – shoe and then sock – to much hilarity. Thus began the train of thought that turned into the poem 'Do as You Are Told'. The poem used to finish after the bit about 'turning the telly over and getting sent to bed', but I found that, when I was performing it, I just kept adding bits on. There were always more obvious things that parents (and teachers) say that could be taken literally. It's a poem I perform in nearly every school I've ever been in since it was written. It always goes down well and it is still evolving. Why don't you use the poster as a starting point for your own poem?
Further reading
The Truth About Parents by Paul Cookson, David Harmer, Brian Moses and Roger Stevens is to be published this August by Macmillan Children's Books. Staying Out Late, Playing Out Late and other poems by Paul Cookson (Lion Publishing, 978 07459 48126). Parent-Free Zone compiled by Brian Moses (Macmillan, 978 03303 ­45545). Create a cartoon strip A2 poster by David Parkins (Literacy Time PLUS Ages 7 to 9, Issue 62, November 2008).
Share the poster as a class. Try reading it with different voices – perhaps half the class as parents, the other half as the narrator (the boy).
Shared writing
As a class, make a list of idioms and phrases which parents often use – for example:

Who do you think you are?
Do you want a smack?
Hold on/Hang on
I'll just be a minute/second/tick
Watch your step
Were you born in a barn?
I've told you a million times not to...

Provide other well-known phrases and idioms, including:

The grass is always greener
You can't teach an old dog new tricks
Don't get your knickers in a twist
On his last legs
Let sleeping dogs lie
Having a brainstorm
Watching paint dry
A different kettle of fish
Under the weather

Now, think literally about the questions and phrases and try to answer them:
Do I want a smack? Yes please I'll have three.
Hang on… Hang on to what? For how long? Where?
Watch your step. Which step? Where is it? Why do I have to watch it? Will it do something exciting?
The grass is always greener. Why? Does it get painted?
On his last legs. How many legs has he had, and how do you know if they are his last ones?
What new tricks could you teach an old dog?
What is a brainstorm?
Why would you put fish in a kettle?
Alternatively, explore any word play – eg, Why would sleeping dogs tell lies?
Literacy Framework
See the Using this issue chart to identify the Learning Objectives covered by these activities, to track progression from Year 4 through to Year 7, and to identify links with Year 5 and 6 Planning Units.
Once you've got a phrase/idea that has potential, take it as far as you can. Ask every question you can about it, exaggerate it, take it to its logical (or illogical) extreme. Be daft. Try repeating phrases. The ideas will probably lend themselves to blank verse and non-rhyming poems. But why not try thinking like a cartoon? One idea has been started for you on the activity sheet below.
Got to go, I've got to put the kettle on…