Drama with a difference: Little Red Riding Hood
13 June 2009
Add to My Folder
This item has 5 stars
of a maximum 5
Rated 5/5 from 4 ratings (Write a review)
Julie Smart shows how an infant school in Walsall used drama to raise standards in literacy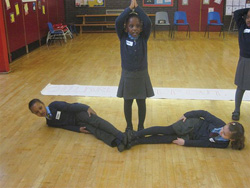 Using innovative dramatic techniques, teachers have sparked a fresh enthusiasm for learning in children and adults at Blue Coat CE Infant School in Walsall, helping them to achieve better results. Working with the Play House theatre-in-education company, they have been using drama to explore stories.
'Our key focus in school is to improve writing', explains literacy coordinator Jon Rawson, 'and we wanted to see if introducing drama linked to a story would help children with their literacy skills.'
Blue Coat Infants is part of Walsall Action Research Network (WARN), a group of nine schools that are running action research projects to improve the quality of teaching and learning. Teachers use Anderson's Taxonomy, a way of classifying skills, to plan lessons. 'We thought that drama offered the potential for higher order questioning and thinking, such as analysing and evaluating, so we approached the theatre', says Jon. 'They were keen to work with us and learn about Anderson's Taxonomy. Gillian Twaite, a teacher and actor, came into school to run the drama workshops, but the planning was all done jointly, so it was a collaborative process.'
They began in Year 1 with 'Little Red Riding Hood'. Six drama sessions were held over a period of six weeks. Follow-up writing was done in class afterwards. Gillian led the workshops at first, with teachers observing and occasionally joining in. However, later, as they grew in confidence, the teachers took a more active role.
'Props provided a visual stimulus in the first session,' explains Jon. 'Gillian brought along a loaf of bread, a basket and a red cloak to set the scene. She started by asking the children some simple questions. What could they see? Who did the items belong to? How did they know? In this way, the children created their own context for the story. They were familiar with the narrative but were encouraged to use their imagination to embellish it.'
They explored various versions of the story, introducing a strong female character, Mrs Hood, her daughter, Little Red, and a wealthy countess, who rented them their cottage. This gave them the opportunity to explore moral dilemmas and issues to do with status as well as relationships – sophisticated concepts for young children.
Gillian put on an apron and hat and became Mrs Hood, inviting all the children to adopt a collective role and imagine they were Little Red. She asked carefully phrased questions to encourage thoughtful responses: What do you think I should do? Should I allow Little Red to go in the forest alone to visit her grandmother? This stimulated a lot of discussion among the children.
'Some of the more vocal children who don't find writing easy got a real buzz from it', says Jon. 'One girl, who is normally quiet in class, surprised her teacher by taking on a whole new character. It completely brought her out of herself!'
Next, the children planned their journey through the forest and imagined the sounds they might hear. Again, Gillian prompted with questions: If trees could talk, what might they say? The children thought they would echo what Little Red was thinking, whispering 'Don't stray off the path, don't stray off the path!'
One child then put on the red cloak, while the rest became the spiky bushes that Little Red had to push past. Gillian built up the tension: Can you hear footsteps? Two red eyes appear out of the darkness! What do you think happens next? The children were encouraged to write their own endings.
They loved the excitement of the drama, and it had a positive impact on their writing. They had more confidence in their ability to write stories and started to write at length with interesting ideas and more sophisticated vocabulary. They explored different genres and enjoyed writing letters and descriptions as well as fiction. Teacher assessment showed a marked increase in Level 2 and Level 3 writing.
'It was good for those boys who like learning in a physical way,' says Jon. 'A number of children in the group are still learning English and it was beneficial for them, too. It gave them the chance to explore language and formulate their ideas before having to write it down. It really helped one Polish boy, for example, to get to grips with English.'
The
learning ladder
Anderson's Taxonomy sets out six levels of learning, which can be represented as rungs on a ladder:
Creating
Evaluating
Analysing
Applying
Understanding
Remembering
The higher the learner climbs, the better the quality of learning.
Following the success of the workshops with Year 1, the school extended their action research to include children in Year 2, who explored Oscar Wilde's Selfish Giant in a similar way. This allowed the actor to work with different teachers, building on the lessons learned with Year 1 while passing on new skills to a wider circle of staff.
The focus of the project is on children's learning, but the teachers have developed as professionals as a result. Their understanding of Anderson's Taxonomy has grown and helped them to see that drama is more than retelling a story.
'All the staff feel they have gained something', says Jon, 'and those who were directly involved, are more confident and keen to try out the new drama techniques they have learned. We've already started collecting props so that we can develop our own stories for each year group.'