Anthony Browne has been named the sixth children's laureate. He talks to Charlotte Ronalds about visual literacy and just what it is with him and gorillas…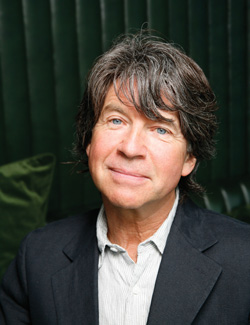 If you had asked Anthony Browne two years ago whether he'd like to be the next children's laureate, he'd probably have said no. He'd have been polite, but insisted that Michael Rosen looked too comfortable in the role; that he was an impossible act to follow. Browne's also, whether consciously or not, a man who seems to shy away from the limelight. So the inevitable media attention and commitments that come with the job might not have been that welcome either.
Yet a lot can happen in two years, and here Browne is, looking remarkably at ease as the new children's laureate. So what made him change his mind?
He smiles. 'I thought it would be great to be able to promote picture books and talk about picture books and to encourage people to value picture books,' he says. 'But at the back of my mind there were always the questions, Am I going to be good enough? Am I going to be articulate enough? After all, I spend nearly every day sitting in my studio painting pictures; I'm not a person who talks! I'm someone who sits in a studio and makes books.'
Forty books to be precise, his most recent being Little Beauty. Browne's most popular creation, though, is Willy, a skinny little chimp living in a gorilla's world. A character, in fact, who Browne now admits is based on himself. 'He's called Willy because the first book is Willy the Wimp and I wanted something alliterative, but "Anthony the Wimp" might have been more accurate. When I was growing up I was small and longhaired and arty and sensitive, and if it wasn't for the fact that I was good at rugby, I would probably have been bullied.'
Picture books aren't something on a lower level than novels or poems; they're not just for babies
This mixture of art and sport is an interesting and somewhat contradictory personality trait of Browne's. It seems to stem from his father, 'who died horribly in front of me when I was 17'. Another thing Browne's father is responsible for is his love of drawing gorillas, which dominate his books and are often interchangeable with humans.
'My father was big and strong, a little bit fierce-looking, a bit militaristic in a way, but also underneath that British exterior he was a sensitive and gentle man. I think gorillas are like that – strong and fierce, but actually quite gentle. In their eyes you can see their intelligence and their sensitivity.'
We discuss Browne's work, which has often come under criticism for being too sophisticated for children. While his stories feature a moral, artistic world where good triumphs evil, his protagonists are usually lonely and sensitive and have to cope with complex layered issues. Certainly no one could accuse him of underestimating children. Browne is also a great ambassador for art (he was Illustrator in Residence at The Tate), and laces his pictures with visual jokes and touches of the surreal.
'I think children are natural surrealists,' he explains. 'I draw a picture that often looks like one thing, but up close you can see other, strange things going on. I use them as clues or to try and tell aspects of the story that the words don't tell, or suggest what somebody might be thinking or feeling, or maybe what might happen next. I've found that you can use almost anything within a picture to tell more of the story. That's what makes picture books so exciting.'
It is this attention to pictures that Browne plans to focus his laureateship on, something which hasn't been covered much since Quentin Blake's stint as laureate ten years ago. 'I want to encourage us to value looking, using our eyes to see the world and to interpret the world and to understand the world. The average person spends 30 seconds looking at a painting in a gallery and significantly longer reading the caption underneath. I want to change that.'
Another thing Browne wants to do is raise the profile of picture books, so that older children will read them too. 'Pictures need reading as much as words do. Picture books aren't something on a lower level than novels or poems; they're not just for babies. You can't say that the greatest novel in the world is better than the greatest painting in the world, it's absolutely ridiculous.'
Browne doesn't intend to stop at art appreciation, however. He wants to get everyone actively participating in art because, he insists, anyone can draw. 'One of the things I tell young children when I go into schools is that when I was five, I didn't draw any better than them. They can all draw, they know what drawing is about. But something happens to children when they get older, and they say "I can't draw". But of course they could and I don't know what happens in education, whether it's to do with exams and the ticking of boxes, or whether it's just a natural thing that they see somebody else in the class who is better at drawing than them.'
Browne plans to encourage people to get over their fear of drawing by having the whole country play 'the shape game', something he devised with his brother. This is a simple game where one person draws a shape and another transforms it into something else. 'The basis for all creativity is in the shape game,' says Browne. 'Drawing is about communicating; there's no pressure, you just respond. You see a shape, you can imagine what it looks like, and with just a line or a dot you can turn it into something else. It doesn't have to be a careful, worried or anxious experience.'
Browne's goals are commendable and, more importantly, achievable. Indeed, the ball is already rolling as the theme for this year's Children's Book Week in October is 'words and pictures'.
So, now that his relative anonymity is going to be a thing of the past, is Browne ready to leave his Willy persona behind and embrace the world of gorillas, just like his father? He laughs. 'Yes, I'm like King Kong now I'm the children's laureate!'