Festivals of light: This little light of mine
20 July 2009
Add to My Folder
This item has 1 stars
of a maximum 5
Rated 1/5 from 3 ratings (Write a review)
Discover some shining examples of creative lesson ideas on festivals around the world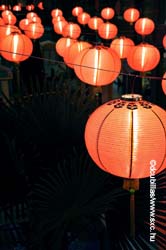 Festivals of light using candles and lanterns are a feature of many cultures around the world, from China to France, and can help to brighten up the darker days of late autumn and winter. Discovering these festivals offers children an exciting journey around the world and can inspire some creative and engaging cross-curricular activities. Before completing the activities for each festival, below, encourage the children to use atlases and globes to discover where in the world they take place.
Chinese Moon festival
China (3 October 2009)
Background: Also known as Mid-Autumn Festival, the Moon Festival is an important celebration in China when people flock to mountain tops to see the Moon. Some hope to see the Moon fairy, who according to legend, dances on the shadowed surface of the Moon. Another legend tells of a time when 'mooncakes' containing secret messages were distributed to the Chinese people, urging rebellion against the Barbarians occupying their country. Nowadays, during the festival, colourful lighted lanterns, some shaped as animals, are hung, and people picnic on mooncakes (pastries containing salted egg yolks, see image, right) as they watch the Moon.
Activities (cross curricular): Invite the children to paint a large display of the Moon fairy dancing on the Moon. Alternatively, you could create 'moonlight' using light from a projector and invite the children to stand in front of the projector as individual silhouettes posed in dance. (NB: Warn children not to look directly into the light.) Children could also write 'secret' messages or rhyming couplets about meeting at the festival and attach these with cocktail sticks to little cakes they have made. Paper lanterns could also be made and hung around the classroom (see www.myweb3000.com/Lantern.html for a simple-to-make Chinese lantern).
Loy Krathong (or Yi Peng)
Thailand (1-2 November 2009)
Background: Believed to have originated from a Buddhist ceremony, the lighting and floating of candles down a river during the festival of Loy Krathong in Thailand, now symbolises the letting go of grievances, anger and suffering. Festival followers see it as a way of starting afresh. Loy, or loi, means 'to float', and a krathong is a little boat, traditionally made of banana leaves.
Activities (citizenship, art and design): Discuss the festival and its symbolism with the children, creating a group list of negative feelings that they might want to release, such as envy, hate, sadness and fear. Invite the children to write a list from their own experiences, together with a short sentence about one of these feelings. Provide resources for the children to make and decorate paper boats on which to place their lists and tiny unlit tealight-style candles, before 'floating' them on a 'river' of blue cloth. (See www.mathematische-basteleien.de/paper_ship.htm for instructions for making a paper boat.)

Festival candles
The above information and activities are a few of the many celebrations in which candles and light play a significant part. Share the poem on Activity sheet, 'Festival candles' with the children and discuss their understanding of, and participation in, the festivals mentioned. Can children suggest other relevant occasions?
Drawing on the common theme and symbolism of the goodness of light and the coming out of darkness, invite the children to write and illustrate a story or legend of their own that might form the basis of a festival in years to come. This imaginary story could be set in the present, the past or the future. It could incorporate other legends, take place on another planet, or step into the darkness of a dark underworld of animals or people seeking a way out. Ask the children to read their stories to the group, inviting them to respond with ideas of how this could be interpreted as a festival of light in the future.
Fête des lumières (Festival of Lights)
Lyon, France (8 December)
Background: This Lyonnaise tradition involves a spectacular display of light installations and the placing of candles on windowsills. In 1643, when the city was threatened by plague, Lyon's councillors promised to pay tribute to the Virgin Mary with a festival of light if she spared the town. Today, people crowd the streets to enjoy the festival and admire the beautiful displays of coloured lights.
Activities (art and design): Ask the children to bring torches to school and cover the lit end with coloured tissue paper or acetate. Turn out the main classroom lights and draw the blinds, and encourage the children to create a 'pageant of lights' on the walls and ceilings by shining and moving their torches around. Can they structure and sequence the flow of their colours by grouping or synchronising the movements into a more sophisticated display? Encourage discussion and collaboration skills and allow time for practice and improvement if necessary. They could choose a piece of music to synchronise their light display to.
St Lucia's Day
Scandinavia (13 December)
Background: The origin of the ancient tradition of St Lucia's Day, or 'Santa Lucia', may have arisen from a Sicilian legend where Lucia, a young Christian, gave thanks for her mother's recovery from illness by secretly distributing her dowry to the poor. Her future husband, a pagan, denounced her and she was blinded and put to the sword in AD304. Today, the festival is celebrated in Sweden, Finland and Norway. It sees the eldest daughter of the family, wearing a long white gown with a crown of lighted candles, serving her parents a saffron bread called lussekatter. Processions are held with girls dressing as St Lucia and boys, wearing tall, pointed hats with stars on, as Star Boys. The burning candles symbolise coming out of the winter darkness.
Activities (Literacy/drama): Invite the children to research the outfits worn by boys and girls as part of the St Lucia's Day processions. Engage some children in planning a pageant to celebrate Santa Lucia, designing and making their own white crowns and pointed caps. Invite other children to create a drama based on the legend, to perform as part of the celebrations.