A selection of new books ideal for girls aged 7 — 11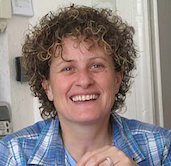 Liz Kessler is the author of the Emily Windsnap series, about a girl who is half mermaid and half human. A fourth Emily Windsnap book, Emily Windsnap and the Siren's Secret (Orion, £9.99 HB), will be released in October '09. Her latest book, Philippa Fisher and the Dream Maker's Daughter (Orion, £9.99 HB), is the second in her new series about a girl whose best friend is a fairy godmother. Liz has spent the last year travelling round Europe in a campervan and is currently in the process of moving to Cornwall.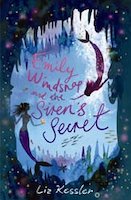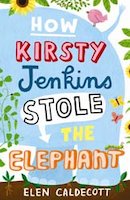 How Kirsty Jenkins Stole the Elephant by Elen Caldecott (Bloomsbury, £5.99 PB)
When her beloved grandad makes a dying wish that she should continue to tend his allotment, Kirsty Jenkins is more than happy to oblige. But, the council has other plans. Soon it's clear that drastic action is needed if Kirsty is to keep her promise – and help her family get over their loss. There's only one thing for it. She'll have to steal an elephant from the local museum. Obviously!
This is a beautiful book that had me laughing and crying throughout. An absolute must read for every girl who adores her grandad, isn't keen on marrows, (sometimes) hates her siblings and loves an adventure.
Suitable for: girls; younger readers; older readers; more able readers.
''Woo-hoo!' Kirsty punched the air. 'We're going to steal an elephant!''
Bonnie & Sam: The Circus Pony by Alison Lester (Allen & Unwin, £4.99 PB)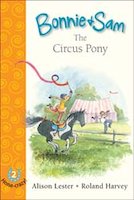 It's Talent Night in Currawong Creek, and best friends Bonnie and Sam are keen to enter. But, what are they good at?
When a circus comes to town in the same week, the horse-mad pair have an idea. With the help of Tricky the pony, they are soon practising tricks worthy of the circus itself. But, when disaster hits the circus, Bonnie gets a chance to take part in something much bigger than the local talent night.
A charming story that will delight horse-loving girls of seven to nine, and anyone who's ever dreamed of running away to join the circus.
Suitable for: girls; younger readers; reading aloud.
Season of Secrets by Sally Nicholls (Marion Lloyd, £6.99 PB)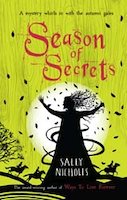 When Molly and Hannah are sent to stay with their grandparents, everyone struggles to deal with the changes that are being forced onto their lives.
One dark wintry night, Molly discovers someone near her grandparents' house. It's a man – hunted, ragged and bleeding. But, it seems that she is the only one who can see him. Who is the hunted man? Is he real, or a figment of her imagination? Why is he so scared? And, is he really anything to do with the ancient myth of the Oak King?
A gentle and beautiful story about myths, magic, families, loss and renewal.
Suitable for: girls; older readers; more able readers.
Princess and the Peabodys by Betty G Birney (Faber and Faber, £5.99 PB)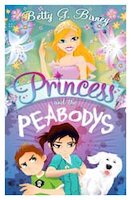 Tomboy, Casey Peabody, is not impressed when Princess Eglantine of Trewellyn magically turns up in her living room. Quite apart from the fact that Princess Eglantine has a habit of calling everyone 'peasants' and ordering them to bow, the two have nothing in common. Or, so they think. It's only when errant wizards, cheerleading tryouts and jealous school mates push the princess to the limit that the girls discover who they can truly count on.
A delightful, witty and wise book that will be enjoyed by girls who dream of being a princess, a footballer or anything in between.
Suitable for: girls; younger readers; older readers.
Glitterwings Academy: Sister Secrets by Titania Woods (Bloomsbury, £5.99 HB)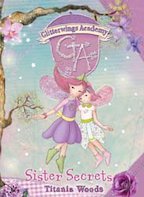 It's Twink's third year at Glitterwings Academy and her sister, Teena, is starting school. Twink wants to help Teena make friends with the right fairies. But, in her efforts to help, Twink just makes things worse and worse. Soon, Teena's annoyance at her sister drives her to do something that could put her and her best friend in terrible danger – if Twink doesn't arrive to help them in time.
A lovely, sparkly story about what it really means to be a sister, a best friend, a cousin or a twin, filled with all the fairy magic you could wish for.
Suitable for: girls; younger readers; reading aloud.
Don't forget to visit our 'Giveaways' section for a chance to win all these books!
Magic Ballerina: Rosa and the Secret Princess by Darcey Bussell (HarperCollins, £3.99 PB)

Rosa's new ballet shoes transport her to a magical land where she has to rescue a princess from a tower. Light and lovely reading for ballet-loving girls.
Suitable for: girls; younger readers; reluctant readers; reading aloud.
The Talented Clementine by Sara Pennypacker (Hodder, £4.99 PB)

When her school organises a talent show, Clementine is so busy worrying about her lack of talent, she doesn't realise that she has the most valuable gift of all. Adorable, funny and beautifully-illustrated throughout.
Suitable for: girls; younger readers; reluctant readers; reading aloud.
Jane Blonde: Spylets are forever by Jill Marshall (Macmillan, £5.99 PB)

An action-packed spy adventure for girls. Lots of gadget-filled, fun-filled, time-travelling thrills! Could be slightly hard to follow if you haven't read the previous Jane Blonde books, but still an exciting read.
Suitable for: girls; older readers; more able readers.
The Dread Pirate Fleur & the Ruby Heart by Sara Starbuck (Red Fox, £5.99 PB)

A swashbuckling tale about a girl who discovers that life on the ocean is in her blood. Adventure-hungry girls who enjoy stories about strong, plucky, fearless heroines will love this one.
Suitable for: girls; older readers; more able readers.
Witch baby and me at school by Debi Gliori (Corgi, £4.99 PB)

A funny, charming, delightful book about what happens when you have to move to a new town, start a new school AND cope with having a baby sister who is a witch!
Suitable for: girls; younger readers; reading aloud.