Teacher Talk: freedom for teachers and the summer break
20 July 2009
Add to My Folder
... a place to catch up on staffroom chatter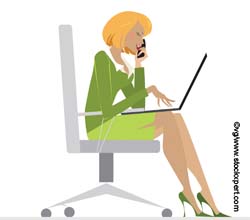 Nicola Lewis — Year 5 teacher
The year gone by
As the summer break approaches, Year 5 teacher, Nicola Lewis, reflects on the past year
The end of term is quickly approaching, and as well as looking forward to the summer holidays, it is also a time to reflect on the year gone by. This year, more than ever, I have become increasingly concerned with how quickly children seem to be growing up. Trying hard not to sound like my grandparents, but, 'in my day' I would happily spend hours making up games, reading, crafting dens and generally using my imagination to have fun.
Watching the children in my class during their free time, it is evident that this is not something that they are used to doing. They become bored very quickly if not provided with constant entertainment. It seems that the popularity of computer games mean that children don't seem to need to use their imaginations anymore. All they have to do is to turn on a television and they are driving a car, playing guitar in a rock band or participating in a grand slam tennis match.
Growing up too fast
As well as a lack of imagination, the way that the children in my class interact with each other seems to be strongly influenced by the media that they are constantly surrounded by. Slang and americanised language is becoming much more common, and I find myself having to constantly remind children of the appropriate language for school. But, a far more worrying trend among the nine- to 11-year-olds is the use of sexual language. I've heard children use words and phrases that most adults would be shocked and offended by.
As teachers, it is our job to inspire children to use their imaginations. We also need to teach children to have respect and consideration for each other – something that requires parents' full support and agreement.
Freedom for teachers. How do we handle it?
I've been banging on for several years about each individual teacher being the most important element in education. Not the Head, not the building, not the resourcing, not even the size of your class. All of these matter, but in comparison, the teacher ranks above them. And, it's not simply my opinion. A study into successful school systems by consulting firm, McKinsey and Company, confirmed that the essential key to achievement is the quality of teaching.
At last, the Government has got the message. The Your child, your schools, our future White Paper, released in late June, signalled the end of the centralised prescription of our work. The National Literacy and Numeracy Strategies will end as a programme in 2011, and those instruments of control, the SATs and league tables, will follow.
'A study into successful school systems… confirmed that the essential key to achievement is the quality of teaching'
Empowering teachers
So, why the change in policy? Two reports by the Select Committee have been influential. In May 2008, the Committee spoke out strongly against the current test-driven curriculum and pushed for us to be set free to teach creatively and to focus on each child. In April this year, came the recommendation that the DCSF should stop pressurising schools to follow non-statutory guidance such as the National Strategies. Teachers should be empowered. Above all else, the attempted management of schools by the DCSF hasn't worked. Although there has been some improvement in standards, the stubborn statistic remains. The attainment gap between our most privileged children and the least persists and this is why the Government turns from prescription and puts its faith in those who are closest to children – the teachers. But, will we respond? Many will find it difficult because years of having to do what we are told have taken a serious toll on our enterprise and independence.
Education for all
Something dramatic and powerful has got to happen before all teachers can realise their potential. How about this? Let the Government move away from encouraging schools to compete to actively helping them to cooperate by establishing a professional-development centre in every community. The centres should be staffed and led by teachers and independents from both Government and local authorities. They will be a meeting ground for schools sharing skills and providing unthreatening support. The centres will mean more to teachers than all the Government's rhetoric. With a real focus on our strengths we can do what the Government has so far failed to do – bring education to the community.

John Coe — General Secretary of the National Association for Primary Education