Aliens, an astronaut and a whole lot of fun — all part of a new animated feature film launching this autumn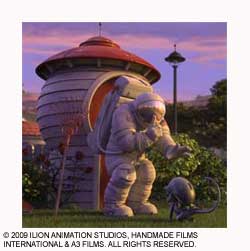 Liven up rainy days this autumn with our fun-filled set of age appropriate resources on the soon-to-be released alien adventure comedy, Planet 51. The movie is a clever twist on an alien invasion film that introduces children to Planet 51 – a world that looks like our own but is instead inhabited by green-skinned beings!
The 'alien invasion' arrives in the form of a human astronaut, Captain Chuck Baker, who crashes down onto Planet 51 during a family barbeque. Chuck thinks he's the first person to step foot on the planet, only to be met with the astonished faces of the planet's inhabitants – little green people who live in a white picket-fenced world reminiscent of cheerful suburban America, and whose only fear is that they will be over-run by alien invaders…like Chuck. With the help of a friendly teenager, Lem, and other Planet 51 citizens, Chuck tries to avoid the local Anti-Alien Army and get back safely to his spaceship before he is captured.
FREE

classroom resources!

The film will undoubtedly be a hit with children (and adults!) and there are many learning links that can be made to bring the film to life in the classroom. We've produced a range of FREE resources to help you explore this fantastic film in your classroom.
Key Stage 1
Child Ed PLUS: Lively literacy activities linked to Stories about fantasy worlds (Y1) and Stories with familiar settings (Y2), with Citizenship and SEAL themes to explore, too. An A2 poster, activity sheets featuring a character profile and film scenes, teaser trailer and 'Through the keyhole' resource support the activities.
Key Stage 2
Junior Ed PLUS: supporting literacy links to Stories set in imaginary worlds (Year 4) and Extending narrative (Year 6), PSHE and citizenship, Unit 5 – Living in a diverse world. Plus, stunning A2 poster, activity sheets with character profiles, prop images and script extracts, teaser trailer and fantastic 'through the keyhole' interactive resource!
Literacy activities
Literacy Time PLUS: creative literacy ideas supporting Literacy Planning Units at Key Stage 1 and 2, including Stories about fantasy worlds (Y1 and Y3), Stories with familiar settings (Y2), Persuasion texts (Y4), Dramatic conventions (Y5) and Fiction genres (Y6). With a stunning A2 poster and teachers' notes, activity sheet activities, feature articles, script extract, trailer, film synopsis and interactive 'through the keyhole resource'.
Receive the resources straight to your inbox
If you'd like to receive an email about the resources to get ahead with your planning, email planet51@scholastic.co.uk and we'll send you a direct link to the resources.
All the resources are age appropriate, so pop the name of the magazine you'd like to receive the link about in the subject line, and we'll do the rest. For example, put 'Junior Ed PLUS resources' in the subject box to receive the link to our Key Stage 2 resources.
Please note: Child Ed PLUS resources will go live first, followed by Junior Ed PLUS and then Literacy Time PLUS, to coincide with the on sale date of the linked print magazines.