Find out how a dynamic approach to ICT can improve communication and achievement in your school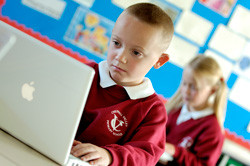 Images courtesy of Anne Keeling on behalf of Childwall Valley Primary School
The recommendations to Government by Sir Jim Rose's Primary Curriculum Review Report say it loud and clear: digital literacy among all primary school children is essential. To what extent this government and any future government pursue the Rose recommendations is not yet certain, but the arguments for developing ICT from the earliest age cannot be ignored. As Jim Rose says: 'To argue against the importance of ICT in the primary curriculum is to ignore the increasing digitisation of information worldwide. Information required for leisure, work, finance, communication and citizenship will be mediated electronically. In all branches of knowledge, all professions and all vocations, the effective use of new technologies will be vital.' He goes on to say that foundations for the learning of ICT are best forged in primary schools to ensure that a population divide of ICT 'haves' and 'have nots' never happens.
'Children are engaged when they are communicating for a purpose'
Succeeding with
ICT
Currently, according to BECTA, only one in four primary schools throughout England and Wales is consistently and effectively incorporating ICT in a way that directly impacts upon quality and child achievement. One of these schools is Childwall Valley Primary School in Liverpool; an ICT specialist school where children learn through the thematic, cross-curricular, skills-based approach of the International Primary Curriculum (IPC). Six years ago the school was in special measures with no ICT focus and no dynamic approach to learning. Now they are in the top five per cent of schools in key skills. That's quite a change.
Developing language skills
The school has identified as many ways as possible for their children to express themselves. Communicating digitally has become part of normal life for them, both in and out of school. It not only means laptops, but also MP3s, digital cameras and videos, giving the children choices about how to present their work in the way that engages them most.
ICT alone does not give purpose to children's learning. By working within a cross-curricular theme, the children understand why they are learning. For example, one of the IPC units of work for Key Stage 1 is finding out about the past. The children used the internet to research, including uploading digital images. They visited the Liverpool Museum where the children experienced aspects of everyday life from the past. While participating, the children recorded each other's experiences with digital cameras, video and MP3s. These recordings made a massive difference to the outcomes of the day and the results were combined with the earlier research to create displays and support report and creative writing.
Learning experiences recorded using digital cameras provide a great stimulus for writing and the introduction of new vocabulary. Children can understand the purpose of explaining the photographs they upload into a presentation or display.
Getting creative
How to develop
ICT
Start with

ICT

that children are already familiar with and know how to use such as

MP3

players and digital cameras. Look at how to incorporate these products and skills in the classroom. Work from there in very simple steps.
Invest in a bank of digital equipment for use on school trips. Try to have several of each product so that there are enough for small groups of children to share.
A combination of PCs and Apple Macs are the best hardware combination. Both have important roles for learning. From a creative point of view, the Apple Macs are much easier to work with.
As a teacher, do not be daunted by

ICT

. Allow the children to lead the learning while you act as a facilitator. Be prepared to learn with the children when it comes to procedures you do not know.
Allow children to learn for themselves and from each other.
The creative learning approach of the IPC has been very well received at Childwall Primary. In every unit, there are opportunities to incorporate ICT into creative expression, showing how different digital equipment produces different creative results. For example, a simple software programme called GarageBand (www.garageband.com) is used on the Apple Macs to create the children's own mini songs, and the iMovie programme is used (www.apple.com/ilife/imovie) to combine a sequence of photographs with sound, music and voiceover to create simple films.
Making links
Children are engaged when they are communicating for a purpose. Childwall Primary has made contact with other schools through email and by posting photographs and examples of their work on the Think.com page (this is like having your own internet page within a secure platform for schools).The next step is video conferencing, which allows the children to make links in real-time and open up a whole new world of external learning opportunities. The school has invested in portable video conferencing equipment to use in the classrooms and are devoting some of their CPD to its training. As there are schools all over the UK and the world working on the same IPC units, Childwall Primary is looking forward to sharing their learning experiences with other schools in very different environments.
Further information
The IPC is the only comprehensive curriculum equally committed to improving learning and developing international mindedness. It is used in more than 60 countries throughout the world including 460 primary schools in England and Wales. The IPC is a part of Fieldwork Education which, for 25 years, has been helping schools all around the world to develop children's and student's learning through curriculum, professional development, school management and assessment.
To visit an IPC school or for a free sample of another IPC unit and more information call 020 7531 9696 or go to www.internationalprimarycurriculum.com