Use a treasure hunt to boost letter recognition skills in the first of a new fun phonics series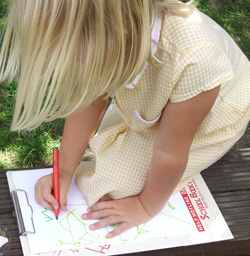 Child Ed PLUS has teamed up with Yellow Door to bring you a selection of valuable free downloadable resources based on Helen Bromley's new book and CD-ROM m is for me! We have chosen a different letter group for each article, starting this month with SATP.
1. Letter search
Download the Online activity sheets 'm is for me: SATP' pages featuring the four letters S, A, T and P. Look at the 'letterscape' pages together with the children and talk about the different ways that the letters are represented. Can the children see any letters that are the same? Can they match upper and lower case in the same font? Explain that the children will be going on a special letter treasure hunt or that they are going to be letter detectives – whichever you prefer.
Print off multiple copies of the 'letterscape' pages and give the children marker or highlighter pens. Let the children work in pairs or small groups to look for words both in and around your setting, such as on advertising boards, street names or even the name of the school. When they see the letters S, A, T or P in a word, invite them to circle or highlight a letter on the corresponding 'letterscape' page.
It is valuable to use environmental print in this way as it helps young children to see themselves as readers. It is important that they understand that reading is all around them, not just in books. You could incorporate the children's discoveries into an alphabet book, using photos of environmental print beginning with different letters that the children have found.
2. Write on!
Choose one of the 'letterscape' activity sheets from the Online activity sheets 'm is for me: SATP' to work with and challenge the children to suggest words that they know beginning with that particular letter. Depending on the age and ability of the children, either write the suggested words on sticky notes for them, or encourage them to have a go at writing them for themselves. Praise the children's attempts, emphasising what they have done correctly. Where appropriate, show the conventional spelling of the word and compare them. Add the correctly spelled sticky notes to the letterscape page and keep in your writing area for children to use again.
3. Dinosaur hunt
Add to the treasure hunt excitement by introducing some dinosaur pictures and words. See the Online activity sheets 'm is for me: SATP' for sample dinosaurs of this month's focus letters. Print off multiple copies of these, stick the words and pictures back-to-back and laminate for durability. Next, hide the pictures around your setting, including outdoors if possible.
Invite the children to use the 'letterscape' pages to look for dinosaurs beginning with the same letter. This is an excellent opportunity to discuss the concept of 'begins with' with the children, and to think about looking for initial sounds as well as listening for them. m is for me! offers readymade alphabets and treasure hunts of dinosaurs and minibeasts. These two themes represent predictable centres of interest for children (especially boys) and help to arouse children's curiosity. It makes sense to embed phonics in a context of interest to the children. Can the children find all the dinosaurs? Reread the dinosaur names – young children delight in learning new facts and rolling long words around their mouths. Observation of the children will show you what they already know, and be prepared to note their comments and questions to inform future planning.
Further information
The book and CD-ROM package, m is for me! provides templates, images and straightforward instructions for creating a range of alphabet books, ebooks, cards and resources, both printed and onscreen. The materials put a strong emphasis on starting with the child as a confident, active and creative learner, and support the teaching of phonics in ways that are based around children's predictable centres of interests.
For further information visit www.yellow-door.net or call 0845 603 5309. Child Ed PLUS can receive 10 per cent off m is for me! by calling Yellow Door and quoting 'Child Ed PLUS'.
Still to come…
Look out for the next two articles in this series, with downloadable resources for the letters INMD and GOCK. Here's a taste of what's to come.
October
Make your own ebook with photos of the children and objects they find beginning with a focus letter. The free tutorial shows you how to add photos of the children and edit the text to complete your personalised ebook.
November
Have a close encounter with caterpillars, grasshoppers, katydids and orange tip butterflies from the minibeast alphabet.