Discover how you can you support and prepare parents for online reporting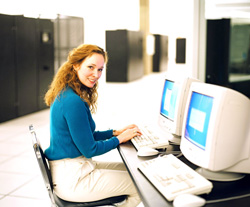 Image © Photo.com/JupiterImages/Getty Images
The school bell rings at the end of the day and children are quickly at home again playing in the garden or on their favourite computer game. However, after-school hours could now become a prime time for parents to return to the classroom and gain knowledge about digital learning. This, in turn, can help them take full advantage of new technologies such as online reporting. Here, Paul Harrington, Product Manager for educational solutions provider Serco Learning, discusses online reporting, and provides guidance for schools to encourage their parents to become involved in, and fully exploit, the world of online learning.
Defeating a digital divide
'September 2012; the deadline for parental reporting in primary schools across the UK is fast approaching. Encompassing 21st century education, online reporting enables parents to gain an insight into various areas of their child's academic life. Online reporting increases the level of information parents have access to, therefore boosting parental engagement. Schools have a duty to inform parents about this system and ensure that parents are up to speed with technology. In order to reap the numerous benefits of accessing their child's attainment and attendance levels, these parents may need in-depth lessons in order to become technically savvy.
How will online reporting affect parents?
'Online reporting is… intended to enhance parental engagement by improving the level of communication and the accessibility of educational information'
As of 2012, primary schools that do not already offer online reporting will have an obligation to provide this to parents. Parents can access a plethora of frequently updated information regarding their child's school information, including attendance, behaviour, attainment levels, as well as home work assignments and class work schedules. Online reporting is not designed to replace traditional communication and parents can still continue to receive traditional reports. It is instead intended to enhance parental engagement by improving the level of communication and the accessibility of educational information. Communication between parents and teachers will be unrestricted meaning that the school-parent relationship becomes more meaningful.
Combining forces to overcome difficulties
To maximise the benefits of online reporting each primary school requires a strategy that incorporates plans to address the needs of parents; including how best to engage and educate them in order to ensure effective implementation. Problems may stem from some parents not being fully ICT-literate, and in fact their child may be more ICT-proficient. With the 2012 deadline fast approaching, this could have an adverse effect by potentially excluding parents rather than welcoming them. Others may be restricted by time pressure and may see learning about online reporting as hindrance rather than a positive introduction. Another potential complication is linked to financial issues. With many low income families unable to afford a computer, the arrival of online reporting again carries a risk of exclusion.
Practical techniques to engage and educate parents Although online reporting is not to become a necessity in primary schools until 2012, schools should seize the moment and start considering ways to introduce it. With numerous possibilities available:
After-school training sessions: Parents could receive training sessions after school, in which teachers explain the use of learning platforms and demonstrate how to utilise online reporting. For working parents, evening sessions could be held, taking in to consideration variation in ability levels.
Online lessons: For

ICT

-literate parents, and those with internet access, online training could be provided in the form of a workshop detailing step-by-step guidelines. This offers a convenient way for parents to learn because they can log on to and access the learning platform at a convenient time for them.
Small-scale pilot schemes: There is scope for Local Authorities to offer small-scale online reporting pilot schemes, in which two or three local schools could be selected to participate. From this, case studies can be gained to demonstrate the positive aspects of online reporting and present an effective way to highlight initial problems, thus complications can be addressed prior to full roll out.
Explore ways to involve the children
Be sure not to underestimate the value of getting children involved – they are already likely to be familiar with a learning platform and will have some ICT-awareness. They could assist teachers in after-school demonstrations, and during lessons teachers could ask them to contribute towards the compilation of a 'parent's guide to online reporting'. Most importantly is that in these initial stages a level of interest and fun is maintained in order to instantly engage both parents and children.
The importance of using the inevitable to plan ahead
Many primary schools will choose to ignore the pending deadline, but unfortunately there is no escaping its inevitability. Therefore, it is to the advantage of schools to start considering ways to most effectively introduce online reporting to parents. A positive impact to the lives of teachers, parents and students will result; and in turn the learning journey will be better supported. Parents should not feel daunted or nervous – for example with Serco's MIS solution, Facility, parents can access detailed data via user-friendly interface, ePortal, that parents have reported is simple to use. Schools have a duty to generate parental awareness, and parents should embrace opportunities presented by schools to learn about online reporting. Why wait until the deadline is upon us? The schools, teachers, parents and children that reap the benefits will be those who are part of a well thought out plan.'
Further information
Serco Learning design, innovative solutions, integrated systems and offer an all encompassing service. Serco's educational consultants support schools in transforming education and moving beyond software with a solution that helps to deliver the required outcomes for each school. For more information, visit www.sercolearning.com