Discover some of the latest children's books about monsters.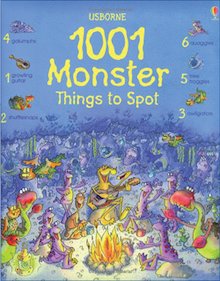 1001 Monster Things To Spot by Gilllian Doherty (Usborne, £7.99)
'Octodoctors, Humdingers and Splendiferoos' – these are just a few of the weird and wonderful monsters to be found in this tongue-twisting collection. My class loved this book for the wonderful word-play and counting opportunities. Several of them took it home to review properly – this book needs time and a willing listener to fully appreciate the variety of monsters available. Ben loved the variety of creatures, Nico liked looking more closely to spot and count everything on each page and Harry compared the book to the Where's Wally series. This is one to read with a friend, rather than as a class. Hours of fun!
Suitable for: girls/boys/4-5/6-7/more able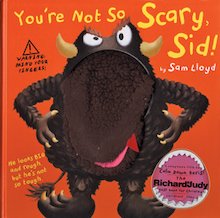 You're Not So Scary, Sid! by Sam Lloyd (Templar, £8.99)
This was everybody's favourite! It's a fabulous story that comes complete with a glove-puppet monster (which Katie particularly liked) that sticks its furry, scary face and long red tongue through every page. It's a chunky, heavy duty cardboard book; long-lasting and colourful. The interactive text encouraged the children to band together as the whole class roared along with great gusto. This book was a brilliant inspiration for our own monster puppets (see photographs).
Suitable for: girls/boys/4-5/6-7/reading aloud/reluctant readers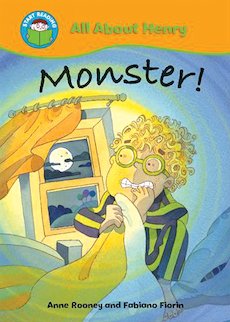 Monster! by Anne Rooney & Fabiano Fiorin (Wayland, £8.99)
This is an ideal book for guided reading groups. It's bright and colourful, and although the text is clear and simple, it is definitely not boring. The colour-coded system is easy to use, and though Monster! features high frequency words, lots of speech marks and a straightforward story line, it is not a run-of-the-mill reading book. We really enjoyed reading Monster! together but it was also a great success with parents as a home-school reader.
Suitable for: girls/boys/4-5/reading aloud/reluctant readers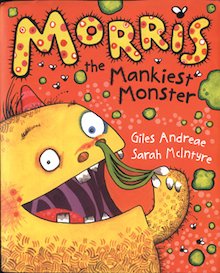 Morris The Mankiest Monster by Giles Andreae & Sarah McIntyre (Davis Fickling Books, £10.99)
DISGUSTING! I am still feeling faintly queasy after reading this book, but my class, of course, absolutely loved it! Many of them have taken it home to review. In fact all of these books have encouraged the Year 1s to branch out and be more imaginative in their reviewing comments. Our limit used to be 'I liked this book because it was funny'. I am now getting much more sophisticated results, and we've moved on to how this book could be improved by thinking about favourite 'wow' words, descriptions of main characters, and so on. The illustrations are wonderfully nauseous – but please don't try to read this one to your class just before lunch, unless you are on a particularly strict diet!
Suitable for: girls/boys/4-5/6-7/reluctant readers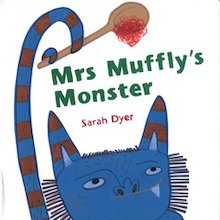 Mrs Muffly's Monster by Sarah Dyer (Frances Lincoln, £11.99)
This book was another huge hit, not least for its bright blue, imaginary monster, with fabulous spotty shorts and an elegant stripey tail. Mrs Muffly creates an intriguing puzzle with her amazing shopping exploits. Why would she need such a vast quantity of sugar, 27 dozen eggs and 58 eight packs of butter? Obviously all these items are necessary to keep her pet monster happy. What else would all that butter be for but to soften up his rough monster feet? The resulting enormous cake for a competition isn't quite a winner, but the array of other cakes were an excellent appetite-restorer after the traumas of Morris The Mankiest Monster.
Suitable for: girls/boys/4-5/6-7/reluctant readers, more able/reading aloud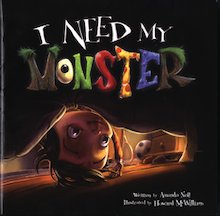 I Need My Monster by Amanda Knoll (Flashlight, £14.50)
Beautifully moody illustrations give this story a brilliant spooky atmosphere. The colours glow and these excellent monsters are the most interesting range of characters imaginable. I thoroughly enjoyed doing the voices for each one but I found it impossible to read Ralph's part without sounding like Dale Winton, and Cynthia was definitely Jo Brand. In this story, the hero is missing his monster, 'Gabe' (who has unexpectedly gone fishing) and finds the replacements that turn up under his bed to be less than satisfactory – hardly scary at all. As our hero comments: 'The whole point of having a monster, after all, was to keep me in bed, imagining all the scary stuff that could happen if I got out.' Well, quite!
Suitable for: girls/boys/4-5/6-7/reluctant readers, more able/reading aloud