Two-time winner of the Kate Greenaway Medal for distinguished illustration in a book for children, Emily Gravett, tells Literacy Time PLUS why she thinks she is one of the luckiest people alive!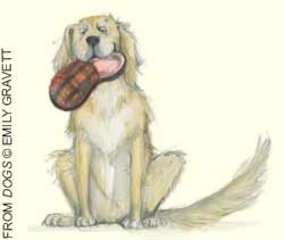 It's been nearly five years since I left university and started working full-time as an illustrator of picture books, and I can quite honestly say that I believe I'm one of the luckiest people alive!
I get up every morning, wave my daughter off to school, walk the dogs and then sit down and spend most of my day drawing, writing, cutting, sticking and fiddling about on my computer. All while wearing my slippers and generally making a huge amount of mess. I love it!
For me, there's nothing more absorbing than having an idea that inspires me and then playing with it until it turns into a fully-fledged new book.
Occasionally though, the ideas run dry, my pencils and paintbrushes refuse to cooperate, and I realize that I haven't been out of the house for weeks. Time to get out and about! So I'm grateful that every so often my publishers set me up to go and visit a group of children at a school, library or bookshop.
Can you match the mutts?
Based on her picture book Dogs, Emily Gravett has made a downloadable Pairs Game, complete with 12 adorable doggy pairs for your children to find and match. The game is available free below, or click here
Incredibly rewarding
When I first started doing school visits I was very nervous. I'm not a teacher, and couldn't really see what the children would get out of meeting me. But, as time has gone on, my confidence has increased and I have seen that a well-managed school visit can be incredibly rewarding for everyone involved in the process.
I think that my favourite school visits are when the children and teachers have spent some time looking at my books beforehand. It helps to build up excitement for the children and there's nothing nicer than being greeted by a group of enthusiastic children who have seen your books (and hopefully enjoyed them).
I try to keep the visits as interactive as possible. I use a lot of photos and drawings while I talk, to keep the children engaged. I want to involve them as much as possible. I ask lots of questions, and show them the parallels between their lives and mine. I want them to realise that being an author isn't an impossible thing to achieve, and doesn't have to be serious and intellectual. It can be about having fun.
Emily Gravett is an award-winning author illustrator. A former Traveller, Emily now lives in Brighton with her partner and their daughter.
Books by Emily Gravett
(all published by Macmillan Children's Books)
Dogs (978 02307 04220). Big dogs, small dogs, stroppy dogs and soppy dogs are all here in this light-hearted introduction to opposites.
Little Mouse's Big Book of Fears (978 02300 16194). Find out what Little Mouse is most afraid of in this interactive picture book. Winner of the Kate Greenaway Medal in 2008.
Wolves (978 14050 53624) Rabbit finds a sinister surprise inside a book about wolves. Kate Greenaway Medal winner, 2005.
Monkey and Me (978 02300 15838) A mischievous little girl and her toy monkey invite you to guess what animals they are pretending to be.
The Odd Egg (978 02305 31352) Duck finds the most beautiful egg he has ever seen – but he's in for a BIG surprise when it finally hatches.
Orange Pear Apple Bear (978 14050 90223) Four simple words are all that are needed to inspire a series of playful images in this picture book.
Meerkat Mail (978 14050 90759). Tired of living with such an enormous family in the Kalahari desert, Sunny the meerkat packs his bags and sets off to visit his mongoose cousins. But will he fit in? And who is that shadowy figure following him?
The Rabbit Problem (978 02307 04237) Spend a year in Fibonacci's Field with Lonely and Chalk Rabbit as they try to cope with their fast-expanding brood.
We generally read one of my stories (with actions and a lot of shouting!) and then together we rewrite the story using the basic structure, but changing the characters, etc. I illustrate their ideas on a flip chart. It's fantastic fun. The kids come up with great – and often VERY rude – ideas.
At the end they have made their own book, and so are authors too! I know from teachers that some children have been inspired to go and write their own versions of the story afterwards, which is fantastic.
Questions and answers
At the end of the visit the children often ask me questions about being an author or illustrator. One of the most frequent is: 'Where do you get your ideas from?' It can be a very difficult question to answer because it seems to change with each book.
For Little Mouse's Big Book of Fears I was inspired by the rational (and irrational) fears that small children often have (my daughter was terrified of overhead pylons). Deciding that the main character should be a mouse seemed to set the tone for the whole of the book.
In the case of Dogs I was between books, which is a horrible stage for me! I was desperately trying to come up with a new idea but failing, because my mind was preoccupied with the hunt for a new family dog. I was getting (typically for me) obsessed with searching the internet for dog rescue sites, trying to find out which breed would suit us as a family – whether we wanted a small or big dog, shaggy or smooth haired, old or young, etc. My daughter was similarly obsessed, and was spending hours poring over dog breed books and comparing their merits and flaws.
So by the time Otto, the beautiful but complex Saluki arrived from a breed rescue, I had nothing to show for a new book… but I did have a lot of information about dogs, and a million drawings of them!
I realized that, while I had been concentrating on Otto, a book had been forming in the pages of my sketchbook. Drawings of dogs of all shapes, sizes and characteristics.
Subtle story
Dogs was a lovely book to make. The story is very subtle, so it gave me an opportunity to really concentrate on the illustrations. I kept the backgrounds simple. I didn't want to detract from the body and facial language of the dogs. I used watercolour paints and pencil because these gave the illustrations a nice loose feel.
I hope that Dogs will give children the same sort of pleasure that my daughter gets from looking at dog breed books: a chance to choose their favourite and talk about their own pets, and what they mean to them.
It's also a book about relationships. When I have read the book with children we often find ourselves looking at the dogs' facial expressions and body language and trying to guess how the dogs are feeling, and why they are feeling like that.
My aim when I set out to make any book is to bring pleasure to the reader (and quite selfishly to me as I make them), so it amazes and delights me that my picture books (which start off life as a doodle in a sketchbook, or a half-formed idea at 4am) can be used in so many different ways.