Original article published 3 Sept 2009
Make phonics exciting with treasure hunts and dinosaurs in this first of a new, three-part series offering ideas and activities from Helen Bromley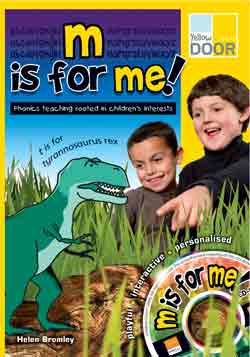 Looking for letters
Begin by downloading the four free PDFs for the letters S, T, P and A. On each page you will find a large number of a single letter (both upper and lower case), in a variety of fonts and distributed randomly across the page. Look at the letterscape pages with your class and talk about the different ways the letters are represented. Can the children see any letters that are the same? Can they match upper and lower case in the same font? Do they have any favourite fonts?
One engaging way to talk about letter names and sounds is to go on an environmental print search. Explain that you are going on a special treasure hunt. You could also say that the children are going to be detectives. Print off multiple copies of the letterscape pages and give the children marker or highlighter pens. The children can work in pairs or small groups and look for words both in and around the setting – eg, advertising hoardings, street names, or even the name of the school. When they see a letter s, a, t or p in a word, they can circle or highlight a letter on the corresponding letterscape sheet. Using environmental print in this way helps young children to see themselves as readers. It is important that they understand that reading is all around them as well as in books!
You could incorporate the children's discoveries into an alphabet book, using photos of pieces of environmental print beginning with the different letters that the children have found.
Taking it further
Have ready a packet of sticky notes and some hard copies of the letterscape PDFs. Choose one page to work with and brainstorm with the children the words that they know beginning with that particular letter.
Depending on the age and experience of the children, either write the suggested words on the sticky notes for them, or encourage them to try writing them for themselves. Praise the children's attempts, emphasising what they have done correctly. Where appropriate, show the conventional spelling of the word and compare with their version.
These activities are taken from Helen Bromley's book and CD-ROM, m is for me! and are reproduced by kind permission of Yellow Door. m is for me! provides templates, images and instructions for creating a range of alphabet books, ebooks, cards and resources, both printed and on-screen, supporting the teaching of phonics in ways that are based around children's predictable centres of interest.
Literacy Time PLUS has teamed up with Yellow Door, to bring you a selection of valuable free downloads. We've chosen a different letter group for each month, starting with SATP. Look out for the next article in this series, published in November, which will offer downloads for the letters INMD.
For more information about m is for me! visit www.yellow-door.net
Add the correctly-spelled sticky notes to the printed page of letters. Keep the pages in the writing area, so that children can use them as a resource for writing.
Alternatively, why not add to the treasure hunt excitement by introducing some dinosaur pictures? Download dinosaur sheet 1 and dinosaur name sheet 1 and dinosaur sheet 2 and dinosaur name sheet 2 for this activity. Print off multiple copies of these and stick the words and pictures back-to-back, then laminate them for durability.
Hide the pictures around your setting, outdoors if possible. Be imaginative and creative – hide the images behind bushes, under stones, even hanging from trees.
The children can then use the letterscape pages to look for dinosaurs beginning with the same letter. This is an excellent opportunity to discuss the concept of 'begins with' with the children, and to think about looking for initial sounds as well as listening for them. m is for me! offers ready-made alphabets and treasure hunts of dinosaurs and minibeasts. These two themes represent predictable centres of interest for children and arouse children's curiosity and fascination. It makes sense to embed phonics teaching and learning in such a context.
Can the children find all the dinosaurs? Get ready to read the names lots of times, as young children delight in learning new facts and rolling long words around their mouths.
Observation of the children will show you what they already know and notice. Be prepared to take note of their comments and questions to help inform your future planning.
An amazing array of alphabets
Create your own alphabets and treasure hunts to reflect young children's predictable centres of interest – the stuff of fascinations, curiosities and intrigue. The possibilities are endless but here are a few ideas to get you started:
The outdoor alphabet

take groups of children on a series of walks around the outdoor area, taking photographs of objects, people and places to make your alphabet. Don't overlook apparently ordinary opportunities such as w is for wall, c is for car, f is for fence, etc. The more familiar the items that are present in the alphabet, the more highly motivated the children will be to use it.
The footballers' alphabet

Use players' surnames to begin with, as these appear on their shirts. With the wide range of nationalities playing in our football leagues, you can be confident of finding at least one player for every letter of the alphabet!
Images of well-known players can readily be found on the internet. Make sure that you talk to the children about the players that they know, and the teams that they support. You will probably have to find pictures of more than one player for each letter, to ensure that everyone's favourite team is included!
Finding a footballer for every letter of the alphabet is a widely played game on the internet, and simply typing 'footballers A-Z' into a search engine will yield a wealth of interesting results.
The cars and vehicles alphabet

To make this alphabet, put together a selection of car magazines. Sometimes these are available free in the foyers of supermarkets, so this need not be an expensive activity.
Work with small groups of children to identify different makes of cars, lorries and vans. Cut the pictures from the magazines and label them.
Download all the resources for these activities here.