This multimedia resource illustrates the working lives of children in the coal mines in Victorian times. It features an extract from the 1842 Children's Employment Commission inspection report (official formal language), information on Big Pit in Blaenafon, an image gallery, and a hyperlink to a video in which children, in role as miners, act out interviews with the inspectors.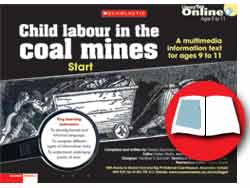 Preparation
Child labour is a sensitive, difficult issue so you may wish to preselect some suitable resources/websites.
Previous learning
In Year 4, children should have: listened to speakers and made notes; found information effectively in different types of information texts; written non-narrative texts, summarising and shaping material from different sources; used paragraphs, punctuation and varied sentence structures to clarify meaning; used word-processing packages to present work.
Shared learning and teaching
Before reading
Look at the title screen. What will the resource be about? Is it going to be about a modern-day issue?
What do the children know about childhood in Victorian times? Did they know that many children had to work?
Sharing the resource
Read the introduction page. If necessary, help children to pronounce Blaenafon (Bly-nav-on).
Go to The inspectors' findings. Read the short introduction. Explain that this is a real document.
Ask children to read one bullet point each in the report.
Pick out formal and official words/phrases – eg, 'we have thus endeavoured to give a digest'.
How do the inspectors feel about the conditions the children are facing? How can we tell?
Look through the image gallery and watch the video. Talk about what you have read/heard. How does it make the children feel? What was the worst thing about working in the mines?
Share-read The History of Big Pit. Ask quick comprehension questions – eg, What made child labour illegal? Why did Big Pit have to close?
Explore the techniques the author uses to present the information clearly, chronologically and logically – including subheads, paragraphs, connectives (At first, Just three years later), and complex sentences to add extra detail. Look at the punctuation separating the clauses – eg, in At its height, Big Pit – which stands…
Speaking and listening
Key learning outcomes:
To use different question types, dialogic talk and work in role;
To explore how words are used in a formal context;
To appraise, make notes on, use evidence from a text;
To infer writer's perspectives;
To distinguish everyday and subject-specific words;
To write multi-layered, factual texts with hyperlinks.
Further resources
Working Children Worldwide (Save the Children, 189366778) – cross-curricular resource pack on child labour and globalisation, including case studies, activities, photo-cards and posters.
Hotseat children in role (eg, as an air door child, a windlass operator, a carter, an adult miner or a mine manager. Ask them questions about their life and what they would like to change if they could.
If children have parents or grandparents who have worked in a mine, invite them into school. Prepare questions. Follow up the interview by comparing the conditions described with those in Victorian mines.
Group and independent activities
Do the children think child labour is an issue today? According to Save the Children, as many as 8.4 million children around the world are working in appalling conditions. Using newspaper stories, books or suitable websites, research some of the jobs children do today and why. Present findings as a multimedia resource. Share out tasks – eg, copy writing, picture research, screen design, website research, and so on.
Ideas for writing
Ask the children to imagine that they are one of the young mine labourers and write a diary entry in which they describe the things they did and saw that day. Encourage them to build in as many facts as they can, as well as imagining how they felt.
Write a letter from a parent or relative of one of the mining children, complaining about conditions.
Create a poster or flyer campaigning for change in the labour laws or use the activity sheet to write a royal decree.
Define the subject-specific vocabulary (eg, windlass, dram) for a glossary.
Plenary
Share groups' research on child labour today. Discuss the content and the way the information was presented.