This pet-themed on-screen resource allows children to improve sentences, focusing on different elements within the sentence (nouns, verbs, adjectives, openings, endings), gradually making them longer and more interesting.
They begin by selecting a cat or a dog, then work through the screens, changing their sentence as they add more information. Depending on the children's skills, they can use some or all of the screens. Each activity increases the complexity of the sentence.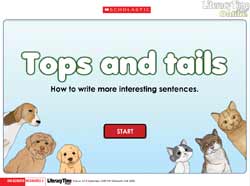 Before using the resource
As a class, collect interesting words related to cats and dogs, including precise nouns (types of dogs, cats they know) and different verbs for movement (running, walking, leaping, etc). You could extend this to other kinds of pets or other objects, such as flowers.
Using the resource
As the children work through the screens, ensure that they say out loud the new sentences they have made. When they are familiar with the process, encourage them to read out some of the options before making their choice. As the sentences get more detailed, support them to consider if their choice will make sense.
Introductory screen
Take the children to the introductory screen. Here they must choose the cat or dog to play with. Clicking on the picture takes them to a new screen with a simple sentence. The following screens will help them to develop this sentence.
Activity 1
Here the children must choose a new dog or cat and use a better word which makes their sentence more specific. When they click on the noun in red, a range of alternative pictures and more precise nouns will appear. The children click on the word or picture they want to use and this appears in their sentence.
Activity 2
Now the children are invited to make their dog or cat do something different. They simply click on the verb in red to see a range of different activity pictures and words for their pet. They select their favourite as before, changing the sentence again.
Activity 3
On this screen, the children are invited to add an adjective to their sentence. A range of possible adjectives are displayed and the children can hear each word spoken by clicking on the 'speaker' icon.
Encourage them to say out loud how their sentence would sound using a particular adjective before they make their final selection, so they can discuss whether or not it makes sense in their sentence or it sounds right.
When they have chosen the adjective they would like to use, the children drag and drop it into the space in the sentence.
Literacy Framework
See the Using this issue chart here to identify the Learning Objectives covered by these activities, to track progression from Reception through to Year 3, and to identify links with Year 1 and 2 Planning Units.
Activity 4
In the final activity, the children improve their sentence by adding to the beginning or end of their sentence.
They simply click on the 'top' or 'tail' they would like to use and it appears at the start or end of their sentence.
Discuss how the capital letter and full stops move as these new words/phrases are added.
Ask the children to read out their new sentence. If it doesn't make sense or sound right they can select a different top or tail.
Follow-up activities
Enlarge the activity sheet below, then cut it up to make word cards which the children can use when altering sentences.
See how many other nouns, adjectives, verbs, 'tops' and 'tails' the children can think of, to add to the options given in this game.
Allow the children to practise using similar structures to create sentences about other pets, continually reading their sentences aloud and thinking about how to improve them.