This non-chronological report gives information about famous pets – from pets who have famous owners or who star in books and films, to pets who have earned their fame through brave deeds.
The text can be used as a model for writing simple information texts and reports, and for exploring the difference between fact and fiction.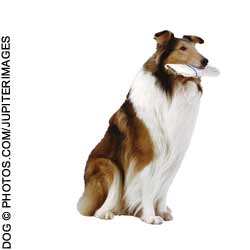 Shared teaching and learning
Before reading
Ask the children what famous pets they can think of. List their answers.
How might you sort your list? Could you group the famous pets by animal type, or the reasons why they are famous (eg, they have a famous owner)?
Shared reading
Look at the poster. What type of text is it? How do they know? Discuss how, even though there appears to be a section about pets from stories and films, this is a factual piece.
Ask the children if they can point to the title; sub-headings; introduction; main text; a photograph and an illustration. Establish that these are all different ways of giving the reader information.
Where should you start reading this text? Read the introduction with the class. Do they now know more about what the poster is about to say? Predict how this information might be organised. Now read the all the sub-headings. Were they right?
Which section would the children like to read next? Establish that the sections can be read in any order.
Read each section. As you meet any difficult/unfamiliar words, discuss how they can be decoded. Ask a more able child to act as scribe and record any words discussed in this way.
Responding
Did the children enjoy reading the text? How many of these pets had they heard of? Did any match those on your class list? What did they learn?
How useful were the sections/sub-headings? Can the children think of any other reasons why pets might become famous? How would the text have worked if it had been organised into groups of animal types?
Which of the pets featured most deserves to be classed as famous? Hold a debate or take a vote, giving reasons for choices.
Write the headings Real and Imaginary at the top of the board. List the animals on the poster under each heading, justifying each choice.
Discuss the style of the writing used in the poster. How can they tell that this is not a story? Who do they think is 'speaking' to the reader? Did the children find the text easy to read?
Locate the questions. Answer them, then think about why the author included questions in the text.
Resources
3 Rs for 4 Rs – Rescue, Reunite, Rehabilitate and Rehome Teaching pack for FS and KS1/2. Free from Battersea Dogs & Cats Home. Includes teachers' notes, activities and a film 'It's a Battersea Dog's Life'. Visit www.battersea.org.uk. www.youngpdsa.org.uk – Online activities for schools from the UK's leading veterinary charity. The PDSA also runs the Pet Protectors children's club. Individual or group memberships are available and include a bi-monthly magazine, Animal Antics, packed with competitions, animal stories, pet care tips, penpals and PDSA news.
Group and independent activities
Give each group one section. Their task is to add one more animal to that section. Guide the group initially through a discussion of what their category of 'famous' means. What kind of pet would qualify for their category? Can the children think of any possible candidates?
Give the group appropriate books and internet access. Allow time for them to work in pairs/individually to research possible candidates. Finally, as a group they must decide which pet they will choose to add to each section.
Ask each child in the group to write down one fact about this pet. Help them to organise the sentences into a paragraph, using the same style as the poster. Ask the group to choose or draw a picture to accompany their section.
More writing ideas
Find and write definitions for the new/difficult words listed in shared reading, creating a glossary for the poster.
Design and create a certificate, rewarding one of the pets for earning the title of Famous Pet.
Use Ghillie's story as a basis for writing new, fictional stories about a pet who saves someone's life.
Literacy Framework
See the Using this issue chart here to identify the Learning Objectives covered by these activities, to track progression from Reception through to Year 3, and to identify links with Year 1 and 2 Planning Units.
Plenary
Invite each group to present their information about their famous pet, explaining their choice, giving background to their chosen picture, and reading out their paragraph.
Combine all the groups' work into a whole class poster or wall display.