This interactive glossary game challenges children to match words/phrases to their definitions. Presented alphabetically, the 24 words/phrases are all related to the topic of Money.
Clicking on a word will give three possible definitions – each designed to promote discussion. The game also comes with a printable glossary, featuring all 24 words with their correct definitions. This resource has obvious links to numeracy and will help children make sense of the many 'credit crunch' news stories that are so topical in the media.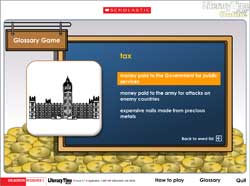 Shared teaching and learning
Before reading
What do the children know about the credit crunch and money issues? Where do they get money from and how do they save money?
Talk about the vocabulary of money and how this could be presented in a dictionary or glossary – eg, alphabetically.
Look at the word list. Try to create your own definitions.
Ask the children if it is important to read the rules before playing a game or should you find out as you go along?
Playing the game
If the children are unfamiliar with this type of game, share read How to play. Discuss the presentation and use of the imperative.
Play the game as a class: each group choosing and defining a word while others discuss if they agree. Give reasons to back up views.
Demonstrate how to check answers.
Responding
Compare the correct definitions with the children's attempts.
Discuss which words are familiar or new. What strategies might help to predict the correct definitions?
Look at some of the incorrect definitions. What could have prompted the author to use these as alternatives? Comment on the humour.
Take the opportunity to discuss the importance of financial planning and developing the saving habit.
Talk about expressions like 'Great oaks from little acorns grow', 'Look after the pennies and the pounds will look after themselves', 'Neither a lender nor a borrower be' and 'Money doesn't grow on trees'. What are they trying to teach? More examples of these can be found in On-screen resource 2.
Group and independent work
Allow groups to continue playing. Encourage them to consider strategies, decide on their answers, and work as a team to identify correct choices.
Use reference texts and the internet to support research into money matters. Design posters to encourage money saving, offering advice on where money could be deposited.
Make an alphabetical list of world currencies. Create a class display by pinpointing each country and their currency on a world map.
Explore the use of the different slang names for money – eg, brass, bread, dosh, lolly, bob, quid, tanner, copper, fiver, tenner, grand.
Give a less able group some of the words and definitions printed on card and ask them to find ways to sort them.
Collect leaflets from banks, building societies and the Post Office. Scan them for financial vocabulary and add this to the glossary, or use them to provide alternative definitions for the game.
Set up a bank role-play area, where children could pretend to deposit money, arrange a mortgage or bank loan.
Literacy Framework
See the Using this issue chart "here" to identify the Learning Objectives covered by these activities, to track progression from Year 2 through to Year 5, and to identify links with Year 3 and 4 Literacy Planning Units.
Independent writing
Write a newspaper report about the current financial climate, using vocabulary from the glossary.
Write a persuasive article to encourage readers to develop good financial planning and saving habits.
Give the children the questionnaire below to complete at home. Be sensitive to circumstances and individual needs and stress the importance of privacy and not sharing personal information.
Plenary
How has the game helped the children's learning? Has it made them think more about money matters and helped their understanding of technical vocabulary? Will they be more likely to watch news programmes like Newsround, listening out for financial items?
Create a quiz in the style of Who Wants To Be a Millionaire, where the class can ask the audience, take a 50/50 or consult a friend, to assess how well they have learned the definitions.
Play a reverse version of the game: give a definition of one of the words and ask which word it defines.