This month's recommendation for seven- to nine-year-olds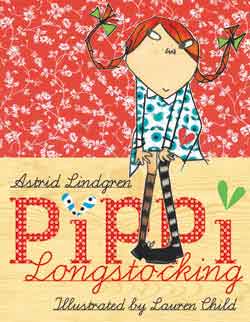 Pippi Longstocking Gift Edition by Astrid Lindgren, illustrated by Lauren Child (OUP, £14.99, 9780192782403)
Lauren Child has revamped the children's classic, Pippi Longstocking, with a fresh new look for 2007. Written by Swedish author Astrid Lindgren in 1945, Pippi's outrageous stories have enchanted children for generations. Now, she's back in this beautiful gift edition book, illustrated in full colour throughout with Child's unique brand of quirky images.
The Gooey Chewy Rumble Plop Book by Steve Alton, illustrated by Nick Sharratt (Bodley Head, £9.99, 978-0370329147)
Trust Nick Sharratt to make science easily digestible! This gorgeously gross 'plop-up' guide explains the journey taken by food as it passes through your body. Complete with a touch 'n' feel slimy tongue on the cover, it's guaranteed to grab children's attention. The Gooey Chewy Rumble Plop Book would make a tasty addition to any school bookshelf.
Tommy Niner and the Moon of Doom by Tony Bradman, illustrated by Martin Chatterton (Happy Cat Books, £4.99, 9781905117406)
Tommy Niner's back, and this time he's off on a terrifying mission to the Moon of Doom! Travelling through space on his ship, the Stardust, Tommy must try to rescue Admiral Kelvin's daughter Kate – but will he get there in time? Children will have great fun finding out in this latest book in the popular series. For a specially commissioned Tommy Niner story, see Issue 40 of Literacy Time for Years 3 and 4. Call 0845 850 4411 to order a copy.