This month's recommended book for nine- to eleven- year olds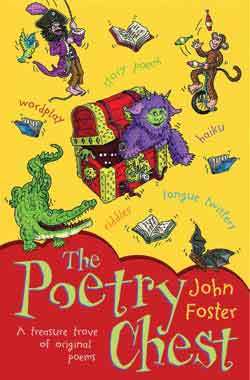 The Poetry Chest by John Foster (OUP, 9780192763419)
Take a peek inside this treasure trove of original poems from John Foster and you will soon see why this is a must-have book for every classroom. The Poetry Chest is packed with more than 250 poems on a wide range of themes – including Family, Football, War, Dinosaurs and Dragons, Wizards, Ghosts and Vampires – and there are sections of poems in different forms, including riddles, word play and nonsense.
The Warlock of Firetop Mountain (Fighting Fantasy series, Wizards Books,
ISBN 978

-1840468373)

Back in 1982, a new type of storybook hit the shelves in which the reader was the hero of the adventure. In The Warlock of Firetop Mountain – the first title in the Fighting Fantasy series – the reader had to make a choice after every paragraph about what would happen, and where they would go, next. Rolling a dice would determine the outcome of a particular action or combat. Every reader's journey could be unique, and children relished this new world of reading which was part book, part game. Many more titles followed, including the recent Howl of the Werewolf (9781840468380) and 25 years on, Wizard Books have published a special 25th anniversary hardback edition of The Warlock of Firetop Mountain .
Comic book Shakespeare
We all know that Shakespeare could tell a good tale. But, to many children, the language he used makes getting to know those tales extremely difficult. The Graphic Novels series hopes to make Shakespeare's plays accessible to all, by presenting them in a colourful cartoon format. Published this month is Henry V, with Macbeth, Romeo and Juliet and Richard III waiting in the wings until next year. For more information visit www.classicalcomics.com