Bring the excitement of Formula One™ to the classroom!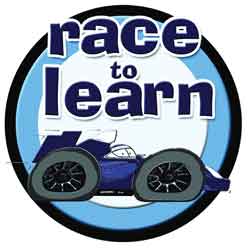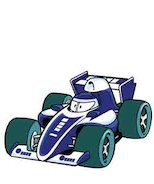 To really get a feel for the resource, check out a FREE sample demo You'll find an absolutely fantastic example unit on Aerodynamics with eight different screens to work through. Each screen includes a specific task for the children to work on. There are clickable links, too – including 'Talking points', 'Help' and 'Screen info' – the children will love it!
From designing the nose cone, to being a member of the pit crew; to sourcing sponsorship to being in charge of the budget – there are so many different jobs to do to make a Formula One™ (F1) car, and most go on behind the scenes. Race to Learn £150 (excl VAT), a new interactive DVD-ROM created by Cambridge University Press and Williams F1 for Years 5 and 6, brings the excitement of Grand Prix racing to the primary classroom. Williams F1 have opened up their doors so children can see every aspect of the sport.
Race to Learn puts children in the driving seat and engages them in a real-life context for learning. Children form F1 teams and take on a wide variety of cross-curricular tasks (see examples, right) that put them in role as designers, accountants and marketers, to name but a few. Activities aim to develop their group-working skills while learning about key curriculum topics. And, once they've completed a task, children can send their work to Williams F1 to appear on the Race to Learn website www.racetolearn.org and take part in a competition judged by members of the Williams F1 team!
'Race to Learn covers a wide range of curriculum areas… from science and maths to literacy, art and design'
Assessment for learning
Teamwork is a prominent feature of the resource – children are encouraged to work together to achieve objectives. Assessment for Learning and peer assessment are also integral to the resource. Race to Learn guides children through the learning process stage by stage, encouraging them to analyse what they've learned and to apply that learning to the real world. Children are able to mark how well they think they have done by awarding themselves a number of virtual trophies.
The resource has been designed for boys and girls, with characters and activities that will appeal to both. It is rich in content – most sessions start with an exclusive, exciting video clip of the Williams F1 cars undergoing a pit stop, racing around a track in different weather conditions or crossing the line for a win. The children have the opportunity to think while they watch.
Tailoring resources
The resource comes with a whole host of support, with comprehensive teachers' notes including ideas for differentiation, assessment and additional activity ideas and onscreen prompts for guidance. And, it's not all prescriptive – you can make this resource your own – editing text to make vocabulary suitable for your class, uploading your own content and reorganising screens. You load the resource onto your school's network server, meaning that all your colleagues can share resources and ideas in the Teacher's Area. Future updates to reflect significant changes to the curriculum (or F1 for that matter!) might be made available to download (with the permission of the user), so that the resource remains fresh and up to date.
Curriculum links
Race to Learn covers a wide range of curriculum areas for Years 5 and 6, from science and maths to literacy, art and design, and geography. Containing 12 half-day sessions of teaching, it can be used over the course of an entire term, or as an exciting and educational end-of-term activity. You can use the sessions in any order, if you wish. Each learning activity is linked to the relevant National Curriculum and/or Framework objectives. Here are some of the ways in which the resource links to the curriculum.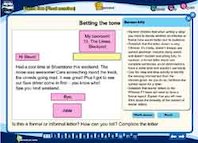 Literacy: Children are able to focus on informal and formal texts with this drag-and-drop activity. Once having completed the activity shown, their task is to write a formal letter to Williams F1 about their team's project.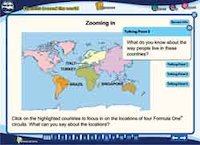 Geography: Four Formula One™ circuits are the focus of this activity. Children can discuss what they may already know about a location. There are three 'Talking points' that can be clicked on to appear onscreen.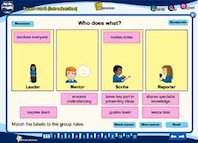 PSHE: This is part of the introductory activities, emphasising the importance of teamwork. Children have to assign roles to the team members. This activity always sparks debate!