... a place to catch up on staffroom chatter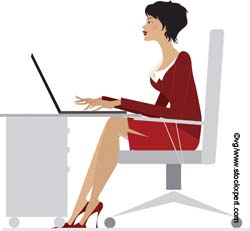 Mel Campbell — Year 6 teacher
Great expectations
With a new arrival on the way, Year 6 teacher, Mel Campbell, shares her emotions
As the new school year begins, every teacher walks back into their classroom with renewed vigour and enthusiasm, refreshed from a lengthy holiday and ready to tackle the new challenges that every September brings.
However, for the first time in my teaching career, I will be returning to school with mixed emotions. Why? I am pregnant, and due very soon to commence maternity leave.
Letting go
This is such an exciting time for me as I will be giving birth to my first child in mid-October, but I still feel an overwhelming responsibility for the class of children that I will be leaving behind. While I firmly believe that they could not be left in better hands (my TA, and the teacher who will be relieving me of my duties, are both superb) I know that I will find it hard to let go – to let someone else take control.
Will they miss me?
The thought of not returning until after the Easter holidays also grates on my conscience – while I fully intend to take full advantage of, and will very much enjoy, those precious first months with my newborn, I am also aware of the fact that by then I will have missed out on nearly seven months of 6M's education. Not to mention the laughs and jokes and recognisable little foibles that make teachers' days so worthwhile. How will they respond to me when I return to school? Will they have missed having me around and welcome me back into the fold, or will I be an undesirable disruption to their well established routine? I can only hope that in the four weeks I will be sharing with them before waddling off into the midst of piles of nappies and sleepless nights, I can set them up for an enjoyable and exciting six months without me
What view of learning lies behind our test-driven culture?
My friend Sue Palmer had a good go at targets and target-dominated school life in her July '09 'Teacher talk' column. I'll go further here and take a look at what lies behind the targets. What is the view of learning that pins children to our records by assessing their so called 'levels'? In today's test-driven culture, with booster classes, catch-up tuition, and so on, the assumption is that learning is sequential and incremental and that it can be precisely assessed.
A child's personal growth cannot be summed up by a simple level drawn from literacy and numeracy
All teachers know that this is nonsense. Levels embody a political view of learning based upon a misplaced fixation on accountability. A child's personal growth cannot be summed up by a simple level drawn from literacy and numeracy. It's even worse when the child is aware of their level. Then learning itself is harmed.
Children are people – not cars on an assembly line. They are, as we all are, complex beings full of loves and hates, fears and enthusiasms. Emotion and skill are inextricably interlocked. What use is a skill if we do not care to use it? What use is knowledge if we are unable to make a judgment about it?
More than basic skills
I once found some lines of poetry* in a Head's study:

If thou of fortune be berefit,
And thou dost find but two loaves left
To thee -- sell one, and with the dole
Buy hyacinths to feed thy soul.

The loaves symbolise performance in basic skills and, of course, we should check on our children's levels of competency. But, there is more, much more, involved in education. A sounder, better balanced view of learning – one which takes the whole child into account – would symbolise the hyacinths. It will be hard work, but at least the recently introduced APP (Assessing Children' Progress) begins to consider the whole child. Both loaves and hyacinths are what are needed.

John Coe is General Secretary of the National Association for Primary Education