This information text provides biographical details about the famous people who appear on our banknotes.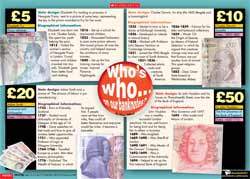 Shared teaching and learning
Before reading
Begin by looking carefully at the detail on each banknote featured. You can view full versions of the banknotes at www.bankofengland.co.uk/banknotes/current/index.htm. List everything you can see on each note. Do the children recognise the faces on the banknotes? (If possible, provide some additional pictures of these people.) What did they do to make them famous? Why do you think they were chosen? Record their ideas and comments using a mind-map.
Run through with the children any technical vocabulary in the text (such as reforms/reformer, Quaker, inmates, botanical, philosopher, merchant) which might cause problems during reading.
Shared reading
Discuss the layout: key information (denomination, name of famous person, what they are famous for, date of birth/death), note design, biographical information (with key dates). Point out how sub-headings are in bold to make it easy to locate information and how an accompanying image supports the text. Discuss how the biographical information is organised – eg, key dates, chronological order.
Read through the section on Elizabeth Fry. Discuss how the text is written in note form. How is this different to full sentences? Turn some of the notes into full sentences to illustrate how non-essential words are omitted. Discuss why note form is appropriate for this type of text but not for narrative or report-writing, for instance.
Discuss some of the more technical vocabulary used – eg, reforms/reformer, Quaker, inmates. Look up these words in a dictionary and write a class-agreed explanation, forming a glossary.
Demonstrate how to summarise the basic points about Elizabeth Fry and her work. What is the key information? If you had to choose three main points, what would they be?
Read through the rest of the text, repeating the activities above. Ask the children to work in pairs to summarise each section.
Literacy Framework
See the Using this issue chart here to identify the Learning Objectives covered by these activities, to track progression from Year 2 through to Year 5, and to identify links with Year 3 and 4 Literacy Planning Units.
Responding
Is this a good information text? Why? Could it have been organised differently? In what way?
Discuss the four people featured. Does the text provide enough information about them? What other headings could have been used?
Who do the children think is the most worthy person to be on our banknotes? If they could choose someone to feature on a £100 note, who would they choose and why? Where would they go to find out about this person? What images would they choose to put on the note and why? You may wish to share the list of suggestions submitted to the Bank of England which is available at: www.bankofengland.co.uk/banknotes/about/banknote_names.pdf.
Follow-up work
Work individually or in pairs. Choose a person worthy of appearing on a £100 note. Use the internet, newspapers and information books to research the chosen individuals and write an information text about them. Start by making notes on the activity sheet below. This could be an ideal homework piece or holiday project. Ask children to design the £100 banknote, featuring their chosen person and some appropriate images. The children could sketch their ideas on the activity sheet then use

ICT

to perfect their design.
Extend the poster text by adding information on famous people on banknotes now out of circulation, such as Sir Isaac Newton (£1), The Duke of Wellington (£5), Florence Nightingale (£10) or Sir Edward Elgar (£20). Again, a full list of withdrawn banknotes, with images of both sides, can be seen on the Bank of England website.
Alternatively, research people who have been featured on stamps in the past and produce a similar information poster. For information on previously issued stamps see www.royalmail.com/portal/stamps/.
Plenary Ask the children (in pairs or as individuals) to display and present to the class their banknotes and information texts, giving the reasons for their choice.