Could any of your children see themselves as a radio broadcaster, DJ or reporter? Can you imagine having your very own radio station in school? Well, here are two ways in which you could get your school on the air.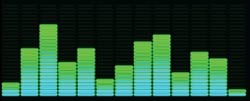 Katy Mumford explains her school's connection with Radiowaves.
On Thursday 18 December 2008, SPJ Radio was launched. Months of hard work finally paid off, as 12 talented Year 6 children broadcast live to the school community for the very first time.
This broadcast was not the birth of Springwell Junior School's affiliation with Radiowaves. We had first discovered the Radiowaves service during a 'Voice It' presentation at a Futurelab conference in 2007. As a forward-thinking, innovative school we are always looking for ways to enhance our children's experiences and for vehicles though which we can drive our new theme-based curriculum. Recognising the creative potential behind Radiowaves, made it an opportunity not to be missed and, as a result, our radio station was born.
About Radiowaves
Radiowaves is a BETT Award winning service giving schools and youth groups their own safe website and social network through which they can publish podcasts, videos and blogs. Teachers can check and approve children' work before it goes online and children can benefit from feedback from a global community of schools. Expert support and training is also available.
For more information visit the Radiowaves website at www.radiowaves.co.uk.
You can visit Springwell Junior School's space on the Radiowaves site at www.radiowaves.co.uk/s/Springwell+Junior+School.
Initially each Year 6 child created their own blog pages. This provided them with a forum through which to express themselves and a medium through which they could present their work. Each child uploaded photos, videos, recorded podcasts and wrote reviews. The high level of interactivity really engaged the children and noticeably raised their levels of motivation.
Building on this success, we decided to create our own school radio. Primarily, we saw this as a fantastic opportunity for our more able children, and we chose a team of Year 6 producers, presenters and ICT technicians to broadcast SPJ Radio's first show. The children took full ownership, selecting and writing news, interviews and sport features, and composing their own jingles. Driven by their audience, the children were motivated, challenged and incredibly excited on the day of broadcast, and many of them now see journalism as a viable future career.
Radiowaves is regularly used outside the classroom, too, as a safe social networking tool. Children are able to communicate with their friends and members of other Radiowaves stations, sharing dialogue, reviews and pictures with children from other schools.
We have now begun to extend the use of Radiowaves throughout the rest of the school, and have many exciting projects planned. Who knows what lies ahead for SPJ Radio?
---
Melissa Thom introduces Radio in Schools.
Young people are now more media literate than ever and the growth of social networking websites and user-generated content is on the increase. Radio in Schools grew out of this social media explosion, as well as from a desire to engage children in the world of radio and empower them to craft, produce and share their own stories in their own communities, through the simple, powerful medium of radio.
Radio in Schools is a national podcasting platform for creating, showcasing and sharing children' work. The key to its success lies in its simplicity and design. At the heart of this lies a technical worldwide first – an online 'Virtual Studio' – which means that there is no need to download any complicated software or have any in-depth technical knowledge. So anyone can have a go and can produce high-quality radio content that has real meaning for its users.
About Radio in Schools
Radio in Schools is a not-for-profit organisation. It is supported by Global Radio – the UK's premier radio company and home to Heart, the UK's biggest radio brand. The project also has the backing of the Department for Culture Media and Sport, British Telecom, The University of the West of England and The National Literacy Trust. Find out more at www.radioinschools.co.uk.
The recent publication of the Rose Report stresses the need for all children to establish and develop media literacy skills, with an increased focus on personalised learning, speaking and listening. Radio in Schools addresses all these requirements and provides a fun and engaging way for young people to express themselves, as well as creative opportunities for teachers to help deliver ICT across the curriculum and beyond.
Getting started
Once a school has registered with Radio in Schools, they can create their own school homepage or link directly to their school website. From here they can showcase children's podcasts using a range of familiar tools, including blogging and tagging. They can create featured podcasts, post information about their school and share this with their local community.
Burnbush Primary School in Bristol was involved in a pilot study of Radio in Schools, and used it across the curriculum – including for history lessons covering World War Two. The children went on a trip pretending to be evacuees. They wrote postcards to their parents describing their experience and these were then recorded as podcasts. The project received a lot of interest from parents who were keen to get involved and listen to their children's podcasts at home.
Future projects will include using Radio in Schools to record songs so the children can listen back and improve their work.
"Radio in Schools is a wonderful way of children presenting without having to write something down," said Literacy Coordinator, Heather Morris. "It has definitely helped the children with their confidence and it has now become a key tool for planning. I think the Virtual Studio is fantastic. The children find it very easy to use."