Poet and writer Moira Andrew has been working with children in a Cornish hospital. Find out how poetry became a portal to some valuable time-out from the alien environment of the hospital ward.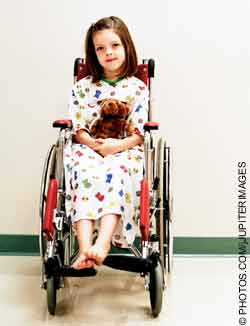 It's the kind of school where children appear in dressing gowns, attached like robots to various drips or clutching a teddy bear. It's a school within a hospital – the Royal Cornwall Hospital (Treliske) in Truro – and the children are patients.
And how did I, an ex-headteacher, poet and writer-in-schools, come to be working there? As a professional member of Lapidus, whose motto is Creative Words for Health and Well-being, I was invited to design a project based on the connection between writing and health. I suggested working on creative writing with children in hospital.
As Michael Rosen has said, 'Poems are one of the best ways in which we can say big things in small spaces…' or indeed, in short one-off sessions, often interrupted by X-rays and scans. It's amazing how quickly children can produce an illustrated poem. They invariably feel good about it and can't wait to show it to mums and dads. Success is essential to their feeling of well-being.
Stretching the imagination
I work in partnership with the Head of Centre, Caroline Johnson. Each visit begins with a planning session, in which the teachers establish which children are well enough to come into the schoolroom and which are to be seen on the wards. As the eligible children can be aged anywhere between four and 16, and schoolwork depends on their treatment and wellness, it's difficult to plan ahead and the teaching imagination can be stretched to its limits.
Early on in the life of the project, I learned to arm myself with all the tools for the job – not only books, but a pencil case complete with a selection of classroom hardware, from pens and pencils to paper clips and scissors. It's a long and tiring walk between the traction wards and the schoolroom if a vital piece of equipment has been forgotten.
For young patients, life on the wards consists of long periods of boredom mixed with a certain amount of fear. The sight of a teacher armed with books and felt-tipped pens provides a welcome break. After all, school is normality for a child and, while they are involved in everyday school-type activities, they become, as one fascinated dad commented, "children, not patients."
Ways in
As in any classroom, I use a range of tried and tested ways in: work based on a simple poetry structure or an existing poem. Sometimes the poem grows from talk about an interesting object, such as a dragon's egg. Yes, dragons' eggs are thin on the ground, but I possess a wonderfully tactile ceramic egg whose magic can stimulate any child's imagination – even the most sophisticated will swear that s/he can hear the baby dragon knocking on the shell! Meanwhile, a model of a three-masted schooner gives rise to poems about pirates and adventures on the high seas. Most children are only too delighted to participate, but even those few who are reluctant respond quickly to the teacher-voice of expectation. One Year 5 girl on traction, who needed some persuasion to get going, glowed with pride when her finished poem was displayed for everyone to see.
Find out more about Lapidus (Creative Words for Health and Well-being) on their website at www.lapidus.org.uk.
Here are a few of the highlights:
A bright Year 2 boy on traction was fascinated by the ceramic egg. He wrote:

The egg feels hard and cold.
It's got lots of little cracks.
The muvr (mother) dragon blows out hot fire.
The baby dragon is all squashed up inside.

Despite his discomfort, he was interested in everything the schoolroom could offer. "Do you have to go?" he asked. "Can't you come back tomorrow?"
There are youngsters who can't be parted from their teddies, so we've had a number of teddy bear poems.

I'm glad you're here with me.
I'm glad I can cuddle you in the night.

The non-writers from Reception dictated their poems and copied them out, a line at a time, just as they'd do in school.
'Prayer to the moon' by Roger Garfitt provides a brilliant pattern, (no need to invent the wheel every time!) and an experienced Year 5 writer produced her own version in gold on black for a night-time effect. It includes the lines,

Show me your crescent shape old man
The shape of a boy fishing for stars.

The starter 'All about me' was seized on by a number of children. A Year 7 girl wrote:

I am like a lily
as yellow as the sun.
When I open my eyes
my petals spread out
and fold under
like an umbrella
after the rain.

A Year 5 child had a different idea:

I am like waves on the sea,
angry at maths
crashing against jagged numbers.

'Inside', by an experienced Year 5 child, was based on 'Inside a shell' by John Scotby.

Inside a shell, there's the sound of the sea.
Inside a bulb, there's the gold of a daffodil.
Inside a grain of sand, there's the hardness of rock.
Inside an egg, there's the flight of a bird.
Inside a raindrop, there's the hint of a storm.
Inside a book, are the words of a poet.

...That brilliant last line quite took my breath away. And there were many more such poems which opened windows into a child's imagination and helped them explore the magic of words.
Of course, this project didn't prove that writing is a source of well-being, but it certainly absorbed the children who took part and offered them time-out from the alien environment of the hospital ward. It gave them breathing space in which to fashion words into poems and colour into pictures – like being in a different kind of school, yet a place familiar to them all.