This biography tells children all the key facts about the life of King Alfred the Great, presented in clearly organised sections. Some previous knowledge of the general social and historical events of the Anglo-Saxon period would be helpful.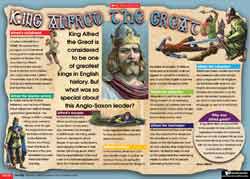 Before reading
Look at the layout of the text. Are the subtitles useful?
Discuss the features of a biography and the difference between biographical and autobiographical writing.
Discuss prior knowledge of King Alfred.
What questions about King Alfred would you like the text to answer? Which question types would elicit most information – eg, 'How' and 'Why'?
Shared reading
Skim read the poster quickly and decide how useful it is. Does the simple, straightforward language written in short paragraphs, make it more accessible?
As you read in more detail, make notes on each section, highlighting the most important facts and new words.
After reading, discuss which questions have been answered. What further facts would they like to know? Follow this up later, through research in groups.
Literacy Time

PLUS

biographies
Nelson Mandela (May 09, Issue 60). Group reading leaflet accompanied by activity sheet biography writing frame.
Sir Bob Geldof (May 09, Issue 60). Activity sheet text.
Famous Britons of the 20th Century (Jan 08, Issue 52). Interactive resource. Read the biographies of 10 famous faces and place them on the timeline.
Leonardo da Vinci (July 06, Issue 43). A2 print poster and biography planner.
Responding
Infer the writer's perspective from what is written/implied. Eg, what does 'Alfred immediately rose to the challenge' suggest to the reader?
Identify the underlying facts of Alfred's reign. Consider the Viking point of view.
Comment on the language and structure. What is the overriding impression? Comment on connectives and adverbial clauses that link sentences – eg, 'To stop the Viking raids…'; 'Even though the Anglo-Saxons won…'.
Use the activity sheet activity sheet below to focus on one section of the text in detail.
Ideas for writing
Create stories about King Alfred, concentrating on a particular event – eg, Alfred crushing the Vikings at the Battle of Edington. Alternatively, write a poem from the perspective of Guthrum, exhausted and beaten after the battle. Encourage them to:

Experiment with the order of paragraphs/verses;
Use both simple and complex sentences to vary pace/add detail;
Provide coherence between sentences and paragraphs by using connectives and adverbial clauses;
Use punctuation to clarify meaning in complex sentences;
Develop viewpoint/create empathy, through direct and reported speech;
Describe the actions of the character(s) in detail, using exciting adjectives.

Write a biography of another historical or topical figure. Establish balance and maintain viewpoint, including positive and negative views. Emphasise different opinions about the person, expressing subtle distinctions of meaning using hypothesis, speculation and supposition.
Write a letter from a historical figure, talking to themselves when they were younger, offering comfort or words of wisdom. Use persuasive language to encourage them to keep to their goals.
Use

ICT

to present the texts.
Literacy Framework
See the Using this issue chart here to identify the Learning Objectives covered by these activities, to track progression from Year 4 through to Year 7, and to identify links with Year 5 and 6 Planning Units.
Speaking and listening
Hold a class debate where opposing sides discuss a particular topical figure. Use cue cards with notes about the person, and encourage each side to present a spoken argument about their positive/negative attributes. Ensure that points are sequenced logically and that views are defended with evidence. Use the conventions/language of debate.
Ask each child to present five pieces of biographical information about a mystery historical figure. Can the class guess the person's identity?
Plenary
Share the children's stories about King Alfred. Look at the variety of sentence types and punctuation used. Which elements created coherence and impact? Were paragraph links effective?
Share biographies. Were they balanced?