Find out more about Brian's work at www.poetryarchive.org.
As Hallowe'en approaches, Brian Moses suggests ways to create spooky poems.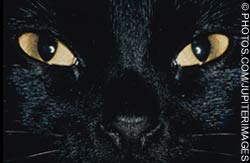 Taking children out of the classroom and into an environment where their imagination can be fuelled by what they see, feel and hear just has to be one of the most rewarding experiences for both children and teachers. This was certainly the case at Hellens, a manor house in Herefordshire, where we gathered for a spooky writing weekend.
The house is just what you need it to be – shutters, faded tapestries, huge fireplaces with roaring log fires, stern portraits, a spiral staircase, minstrels' gallery, four-poster beds, ancient cupboards, loose floorboards and not just one, but two rooms which are supposedly haunted!
Very quickly the old house worked its magic. Rays of November sunlight filtered through half-closed shutters, illuminating dark corners, heavy oak doors creaked on cue and floorboards lifted, revealing dusty compartments where at best treasure, at worst spiders might be discovered.
Right at the start we paraded the clichés of the horror movies and quickly dismissed them. Nothing was needed but the house itself and the spooky feelings it gave us. Anything that felt menacing was made more menacing. We gradually built-up the atmosphere, layer on layer.
With thanks to the children from Longlevens Junior School, Gloucester, their Head teacher, Dave Smith, Literacy Coordinator, Caroline Brunner, poet Wes Magee, and everyone at Hellens House.
There were lengthy discussions about the ghosts – a lady who lost in love and spent 30 years wasting away, and a family priest killed by the Roundheads in the room where Mary Tudor once slept (now known as 'Bloody Mary's room'). Would anyone be prepared to spend a night in these rooms?
A session in the grounds of Hellens provided us with many new ways of looking at things. One girl wrote about fear white berries and angry red leaves. That was just right. Berries can be poisonous, we should fear them, and leaves may well be angry that the trees have shed them. These are the kind of insights that just don't occur in the classroom.
The weekend concluded with a performance to parents where, despite a blazing fire, everyone shivered at least once in response to a succession of chilling observations.
Practical ideas from the weekend
What does a good spooky poem need?
Well it doesn't need zombies, werewolves or multi-headed monsters! A good spooky poem works well when it engenders shivery feelings in the reader, when it makes the reader feel uneasy. So try to define what a spooky poem needs:

It needs a spine-tingling silence.
A piano playing alone.
It needs drapes that steal souls,
A voice with a petrifying tone.
(Charlotte)

It needs a candle light that was
and then wasn't,
And a mirror that reflects prisoners of the past.
(Grace)

Wait until midnight!
Further Reading
Brian Moses' latest book is Greetings Earthlings: Space Poems (Macmillan Children's Books, 978 03304 71749), written with James Carter.
See examples of Brian's poems at www.poetryarchive.org.
Hallowe'en drama activities
For more Hallowe'en literacy fun, why not try out some of Karen Hart's Hallowe'en drama activities with your class? Find them here
Ask children to focus on one particular room and imagine what it would be like to find themselves there at midnight. Use only what can be found in the room to turn it scary. Point out that this is not a story, rather a series of observations and that each line should begin with the word 'I'. This will have the effect of bringing them right in the centre of the action:
I saw, I heard, I noticed, I came across, I felt, I touched, I discovered.
It also has the effect of giving the piece a rhythm and a chant-like quality when read aloud.
It is important that children do not turn what they write into a story at this point, as they need to rearrange the observations to begin with the least spooky line and finish with the most scary line – that moment when you realise that you are not alone in the room because… 'I felt warm breath on the back of my neck'.

I touched a mirror that was layered in thick dust.
I noticed portraits taking in my every move.
I realised the fire was extinguished.
I discovered a piece of shattered glass in which I gazed upon a disfigured ghostly face.

Such an activity can also work well in the grounds of the house where children can look for 'omens'. These can be quite ordinary things which can be made to sound sinister:

I saw a flower rotting on the grass.
I saw a stream with still water.
I saw a young tree strangled by ivy.
I saw a feather fall and stab the ground.

Children could be taken on a tour of the building seeking out possible spooky observations from each room. A poem can then follow a pattern:

We went on a ghost hunt.
We looked into the drawing room.
We didn't see a ghost but we saw a chess piece move and heard a snore from a chair.
We didn't see a ghost but a hand passed my shoulder and a guitar was lightly dusted.
(Carys)

Can the children describe the resident ghost? Where does it dwell? Consider how it reveals itself, how it moves and what its hopes and fears might be:

His cold lonely face
Begs for company
For fear he would be alone for eternity.

Finally, consider how the writing should be performed. Some pieces can be made more effective through the use of percussion instruments – the slow beat of a drum between each line, the low notes on a piano. Someone with a keyboard and/or computer skills may be able to compose a suitably spooky backing track against which a poem could be read.
Remember too that the voice is also an effective instrument. If everything is read at the same level, or in a voice that sounds detached from the events it is describing, there will be no sense of a spooky feeling. when reading the voice should sound frightened. Some lines can be read fast, others slowed down, some can be whispered, then yelled. That menacing feeling in the writing must come across in the reading for the listener to be completely involved.