Explore ways in which printmaking can create a range of rhythmic images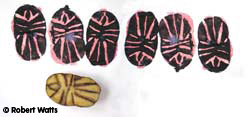 The concept of rhythm can provide a great starting-point for artwork in the early years. When it comes to making visual work, rhythm is all about repetition, and the best way of creating repetition in art is through printmaking.
The wonderful thing about printmaking is that the basic processes are so simple, yet can be developed into more complex activities as children grow older. Printing is something that children do instinctively from an early age, whether it is making handprints in the sand or wet footprints on the floor. Once they realise that they are also able to make prints using sponges, string and vegetables, they will soon be on the lookout for other objects to ink up, print and add to their portfolio.
Learning in art often takes place through experiment and conversation. Try not to guide them too closely – the great thing about printmaking is that it always offers opportunities for children to be surprised by the images and patterns that they create.
Printmaking process
Printmaking sessions typically generate more artwork than any other process. Consider planning a sequence of printmaking activities over a few days, and work with one group at a time. Encourage the children to return to prints that they made earlier in the week to see if they can be developed further, for example, by adding another layer of colour or extending a repeated pattern. Remember to find time to share examples of the children's work with the whole group – they will learn as much from each other as they do from you.
Printmaking resources
Printmaking inks (if available), otherwise use thick paint; rollers; selection of paper of different sizes and colours; flat palettes; large paintbrushes; sharp pencils; fruit and vegetables; masking tape; small toys such as cars and trains; sterilised eggboxes; washing line for storing prints.
1 One potato, two potato
Potato prints are a great way to get children to start printmaking. They can engage with the process immediately and, with a little thought and planning, they can progress to create some interesting and complex patterns.
What to do
Cut a large potato in half, as straight as possible. Invite the children to choose two colours of ink or thick paint and mix them together on a rectangular palette.
Show the children how to press the potato into the ink, or brush the ink on to the surface with a paintbrush (this will give you more options for experimenting with different tones). Then, press the potato on to a sheet of paper. The first print will probably not look too great as there will either be too much or too little ink. Before inking up a second time, make another print and ask the children to describe how it is different from the first one.
If the surface of the potato is uneven, pick up the sheet of paper and press it into the surface of the potato to increase the contact area.
Add little handles created from masking tape to the potatoes if they are tricky to lift from the ink.
Now let the children get started. Once they are applying the correct amount of ink, encourage them to make a sequence of prints across the page in a straight line.
Let the children experiment with creating a circular pattern around the paper. Show them how to rotate the paper rather than reach around the side of the page, as this is much easier.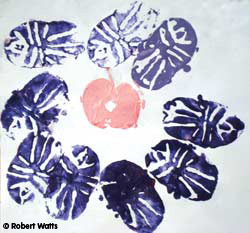 Extend the activity
Invite the children to work in pairs to create a repeat pattern, for example, my potato, your potato, and so on.
Cut lines and shapes into the potato using a sharp pencil before printing.
Allow the first layer of ink to dry, then cut sections of the potato away, and add a second layer of colour.
Experiment with apples, carrots, and so on to create different patterns and textures.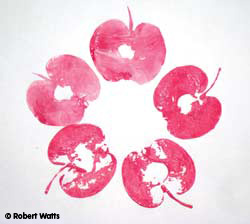 2 Train tracks
This activity combines printmaking with painting to create a different kind of rhythm based on mark making. The children will enjoy recognising that marks are made in different contexts, such as tyre tracks on roads. I have suggested using a toy train, but a quick search in the toybox will offer a range of other options.
What to do
Spread a thin layer of ink on to a palette. Run the wheels of a toy train through the ink to ensure that the wheels are all fully covered.
Encourage the children to think about where they are going to make their first mark on the paper by initially tracing the line with their fingers.
Move the toy train carefully across the page, creating a continuous curved or zigzag line.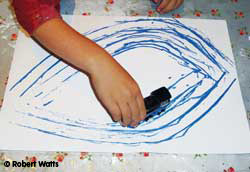 Repeat the same line again, running parallel with the first, to create a rhythmic pattern.
Extend the activity
Add painted stripes to the pattern,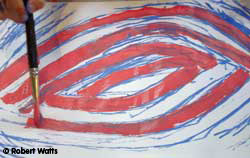 then take a photograph of the results. Load the image on to the computer, then repeat and rotate it to create a new rhythmic pattern.

Let the children experiment with using cars or trains to create grid-like patterns,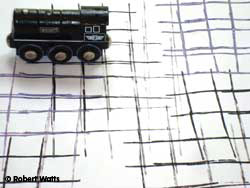 or use string to create further rhythmic effects, or try inking up rollers to create simple patterns.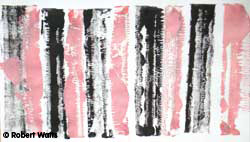 3 Craft 'egg'stravaganza
Egg boxes are designed to carry eggs, although it is easy to forget this, as the range of uses that they can be put to in art lessons is so wide. Not only are they ideal for making sculptures, they can also be inked up and used to create intricate repeat patterns. However, there is a slight risk that egg boxes carry salmonella. If egg cartons are to be used for craft activities in your setting, it is advisable to try to obtain unused cartons, or, alternatively, spray them with a sanitising solution.
What to do
Mix the inks in several palettes, keeping a small amount of ink in each palette.
Invite the children to place an egg box carefully into the ink lift it out and press it down firmly on to a sheet of paper.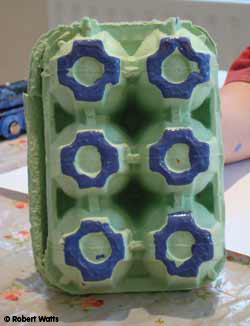 Repeat the process, but this time ask the children to reflect on how they are going to build up their composition. Do they want to make rotating patterns or reflecting patterns?
Extend the activity
Overlap the patterns with different colours – this can be really effective.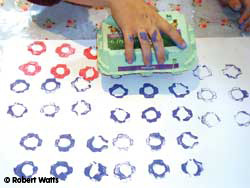 Ask the children to count the marks and to talk about how they are arranged in sets – encourage older children to use the prints to begin to count in sets of six.