Catherine Thornley of Smart Learning, an independent publisher of educational resources including Interactive Literacy (www.smart-learning-demo.co.uk/literacy/) which featured in our 10 of the best pages in July, provides ten top tips for engaging children in literacy both at school and at home.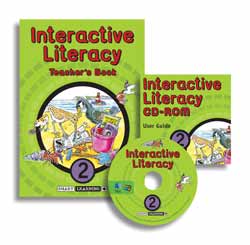 Literacy is a hugely significant element of a child's education. Lacking the basic skills required for everyday communication can seriously infringe on a person's quality of life, both as a child and in adulthood. In fact, statistics from a 2008/2009 Government review demonstrate that 5.2 million Brits do not possess the fundamental literacy skills required in daily life (see www.publications.parliament.uk). Currently endeavouring to maintain support for children as they develop literacy skills means that schools face the challenge of constantly conjuring up new techniques for inspiring learners via effective, yet fun and engaging activities.
Catherine Thornley of Smart Learning, an independent publisher of educational resources including Interactive Literacy for Key Stages 1 and 2, provides ten top tips for engaging children in literacy. Five of her tips are specifically for teachers, whilst the second five are especially designed to help support literacy skills at home. After all, developing literacy skills should not be restricted to classroom learning – both the external environment and daily interaction experienced in everyday life contribute towards the overall development of literacy.

Catherine Thornley
Top teacher tips for literacy
Cooking and literacy – a perfect combination! The National Literacy Trust website suggests telling the story of 'The Gingerbread Man' and then baking gingerbread men with children. But what about applying this idea to other popular stories? As a class or in groups, the children could read the story of 'Goldilocks and the Three Bears', and then bake fruity flapjacks or nutritious porridge – and you can incorporate the promotion of healthy eating by keeping the recipes as natural and wholesome as possible.
Bringing film to learning In class, present older children with a film trailer or brief clip of a new film launch – select a film that will capture their attention. Following this, ask them to write a short script for the trailer narration or a blurb for the back cover of a

DVD

case. As a follow-on activity, children could practice speaking skills by recording themselves narrating the script which they can then listen to. A great place to search for trailers is YouTube.
Perform a 'grammar dance' Teacher Aiden O'Kelley demonstrated on Teachers TV, an inspirational technique created to make the literacy hour fun, via the collaboration of music and movement with literacy. Inspire and motivate learners in class, like Aiden, by bringing grammar alive via basic movements.
Dads = crucial component of the literacy mix! According to the National Literacy Trust, when dads and male carers become involved in reading this helps eliminate the 'girly' stigma boys often attach to it. As male family members are commonly seen as role models for boys, if they are seen to take pleasure in reading, the likelihood is that boys will too! Making reading a shared activity means it can become an experience that children treasure and positively anticipate.
Literacy can be lively and exciting. Utilise the wealth of whiteboard-compatible literacy resources available to fully engage children. For example, Smart Learning's Interactive Literacy is a CD-ROM designed to help teachers inject excitement into literacy lessons. The resource can encourage children to empathise with different characters and take into consideration their feelings, since stories can be heard from each character's perspective. Resources like this help to engage learners, and to source those most effective, thoroughly research the market and look for products that inspire learners, without increasing teacher workload.
Smart Learning is offering teachers free interactive resources for Year 1 and Year 5 which can be accessed at www.smart-learning-demo.co.uk/literacy/
Year 1 – The Gingerbread Man – explore main events, character perspectives and story language using this popular story.
Year 5 – Robin Hood Mailbag – use persuasive literacy skills to debate if Robin is a hero or a villain.
For further information or to purchase Interactive Literacy, please visit www.smart-learning.co.uk or contact Smart Learning on 01223 477550.
Expanding literacy beyond the classroom
Parents can have a huge influence over their child's development. In fact, a Basic Skills Agency national support project delivered by the National Literacy Trust confirms this. The report, entitled Literacy and Social Inclusion, draws on research that states that 'family literacy programmes are an effective way of improving the educational prospects of both children and parents. Father involvement and mother involvement at age seven significantly, and independently, predict higher educational achievement at age 20' (Brooks et al., 1997; Flouri and Buchanan, 2001). In order to ensure literacy skills are nurtured at home as well as in school, here are five simple tips that teachers can use to encourage parents to support them.
Simple tips to help parents support literacy
Children can be the authors! Inspire your child's imagination and get them to utilise their writing skills, by asking them to write their personalised alternative ending to a book they have recently read or are currently reading.
Bring stories to life Reserve time to draw or paint a scene from the child's favourite book. Maintain an element of fun – encourage them to bring the story to life by using bright colours and drawing their interpretation of each character. Next, discuss the scene they have drawn, to build confidence in speaking skills.
Encourage children to discuss their chosen book Engage multi-sensory skills by asking questions about their books and encouraging children to think about the narrative and characters. Whilst at home, ask lots of questions to stimulate speaking and listening skills.
The power of suspense! Instigate excitement and leave children looking forward to resuming the story by finishing story time on a cliffhanger or suspense-filled note.
Start at the very beginning To help with learning the alphabet provide younger children with short lists of words to put into alphabetical order. Perhaps structure lists around a theme linked to a book they are reading in school, or even link it to their favourite television programme or hobby.
These are just a few suggestions of ways to inspire literacy and are not exhaustive by any means. Engaging children in conversation, asking questions and challenging them to become involved in the world around them are basic ways to help promote literacy. Teachers and family members all have the power to contribute to a child's literacy development, and as stated in the Literacy and Social Inclusion report, 'we all need to work together to create the national culture in which education can thrive.'