Create personalised ebooks to reinforce letter recognition in the second instalment of our fun phonics series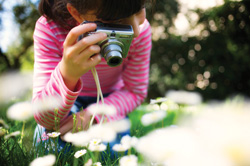 Girl with camera © Enrico Fianchini/www.istockphoto.com
Child Ed PLUS has teamed up with Yellow Door to bring you a selection of valuable free downloadable resources (available in SMART Notebook, Promethean Flipchart and PowerPoint® formats) based on Helen Bromley's new book and CD-ROM m is for me! We have chosen a different letter group for each article. This month we focus on I, N, M and D.
1. Photo finish
m is for me! provides everything you need to create personalised alphabets, both on screen and in print. This month, you can involve the children in putting together their own pages for four sample letters using digital photography. Some of the advantages of making a letters-themed ebook with your class are:
You'll have a resource that is tailor-made to the children's needs and interests.
You'll be able to use objects, places and images that the children are familiar with and that reflect the individuality, culture and locality of your school.
Engaging the children in the process of creating the resource will lead to an increased sense of ownership. The children will be more motivated to use the materials as a result of being involved.
Involving the children in producing the resources offers you invaluable opportunities for talking about and demonstrating the relationship between spoken and written language, and for building on what children already know and can do.
2. Object search
Explain to the children that they will be collecting photos to make letter pages that will be illustrated with photographs they have taken themselves. Include the children at every stage of the process, as this will lead to greater learning opportunities.
Work with small groups of children to collect a selection of objects (from your classroom or from home) that begin with each of the four focus letters. Talk to the children about the different items that they might choose – make suggestions, listen to their ideas and work with what they know and are interested in. Have a selection of alphabet books available for the children to look through and see how their chosen letter is represented in them.
Many children will have knowledge of letters and sounds that are in words of personal interest – such as their own names and those of family, pets and friends. Use this awareness in the conversations that you have together and help them make links with what they already know. Take photographs of the children holding their object(s).
3. Creating letter pages
Download the editable 'Ebook samples' (available in SMART Notebook, Promethean Flipchart and PowerPoint® formats). It is very easy to insert photos on to the pages and edit the text underneath. If you would like some help, go to the instructions page and click on the 'Show me how' links for a step-by-step tutorial. Pages can be copied as many times as necessary to accommodate the photos your class has taken. Try completing the text box on the pages together in a variety of ways:
with a single letter, such as 'd' or 'D'
with both upper and lower case
by embedding the letter in a simple sentence, for example, 'moon begins with m', 'i is for ink', 'I spy with my little eye, something beginning with n' or 'd is for digger, daisy and duck'.
4. Using your ebook
Share the finished pages with the whole class. Initially, the children will want to talk about who or what is in their photographs. Afterwards, use the editable ebook sample pages on your interactive whiteboard for a range of whole-class activities:
When the children arrive in the morning, choose a page to display and place a beautiful basket, box or bag nearby. Let the children work with a friend to find an item for the container beginning with the same letter as the one shown on screen. Extend this by providing some paper for the children to write down words that they know that begin with that particular sound.
Talk about the sounds and names of the letters on the pages. Before opening a particular page, can the children guess which object might be showing? Whose name begins with that letter?
Talk about how many children's names begin with the letters I, N, M or D, as well as other letters in the alphabet.
Print your ebook sample pages and laminate them to create a set of durable cards.
Combine the cards with a selection of moveable letters. Can the children match the letters to the cards?
Play treasure hunts and 'I Spy' with the ebook cards.
Give individual cards to pairs of children and send them off to find as many objects as they can that begin with that letter. You could instigate a school-wide print search. Armed with clipboard and pencils, let the children see how many words they can find that begin with their letter. Discuss what they find. (For more details of this type of activity, see the I Spy article from the Sept '09 issue of Child Ed

PLUS

.