Treat yourself to this month's selection of inspiring numeracy activities based around a fairground cake stall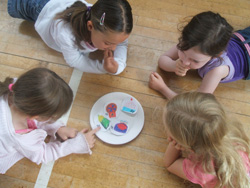 Cupcake quandary: How many can I buy for 20p?
There are many ways to use the theme of a fair to support a maths lesson on money, but none more delicious than a cake stall. Whether real or pretend, children will have fun making and using the stall, not only in maths lessons but also as a temporary role-play area.
Activities
1. Setting up your stall
Curriculum links: Ma2 2b, 3a, 3c
You will need: Fairy cakes (real or toy); paper plates; plastic or real coins; till and purses (optional).
What to do
Decorate a table with a cloth, lay cakes on plates and display a price list. Provide the children with dressing-up clothes to really get them in the mood. In your mental warm-up, practise counting in twos, fives and tens. Show the children how useful this can be by giving them piles of 2p, 5p and 10p coins to count. For children who are working on low coin recognition, price the cakes at 1p, 2p and 5p and play simple shopping games, matching the correct coin to the cake. Once you've modelled being the stallholder, let a child take over to check their 'customers' are paying with the correct coin. Adapt this for children who are working on finding totals by allowing them to buy two or more cakes, adding up the amount spent and then finding the correct coins to pay. Provide children who are ready to work on giving change with larger value coins to spend. In your plenary, pose questions such as: If I buy five cakes at 2p each how much have I spent? Demonstrate how counting in twos can be used to solve real-life money problems. Let the children suggest what coins to use to make this total amount.
2. Total confidence
Curriculum links: Ma2 2b, 3a, 3c
You will need: Pictures of cakes; paper plates and an open space.
What to do
Invite the children to draw pictures of colourful fairy cakes. Cut them out and give the cakes a variety of prices according to how well your class can add up two or more values. The aim of the lesson is for the children to find the total amount spent on two or more cakes. The activity works well with the whole class, but is especially good if you are working with small differentiated groups as you can price the cakes as high or as low as necessary.
Give each child a picture of a priced cake and explain they have just bought it at the cake stall. Encourage them to move around the classroom until you tell them to stop. The children should then find a partner and add up the total spent on their cakes. Repeat this as many times as you like. Each time, ask questions such as: Who has the highest/lowest value cake? How much have you spent altogether? What coins could you use to pay for these cakes? If you are practising writing out number sentences, demonstrate how adding two values together is written as a sum. The next time you give the order to stop, invite the children to write out their own sums on mini whiteboards. Challenge more confident children to find the total spent by a group of three, then four children. Ask questions such as: How much change would I get if I paid with a 10p/20p/50p coin?
3. Musical cake stalls
Curriculum links: Ma2 2b, 3a, 3c
You will need: Open space; music and a music player.
What to do
Make the previous lesson (see above)even more fun by turning it into a musical chairs-style game. It will get the children active and learning at the same time – and, best of all, there will be no marking at the end! Place enough paper plates on the floor for one between two. If you have an odd number of children, let the children take turns to shout out 'Cake stall!' each time the music stops. Give each child an individually priced paper cake to take with them as they dance around the room. When the music stops, call Cake stall! The children should quickly sit at a paper plate (only two children per plate) and work out the total spent. Play the game as many times as you like.
To extend the learning, remove some of the paper plates so that there is one between three children, four, and so on, The children must then find the total spent on several cakes. You can also remove the plates altogether and get the children to find a partner with the same value cake when the music stops. When I played this with my own class I went on to by challenge them to make 'human sums' – when the music stopped children with 1p and 4p cakes had to sit with a child with a 5p cake. I was surprised at their creativity and found the more confident children were able to organise the others into groups. To give the children ownership of the game, allow them to suggest different outcomes for when the music stops and let one take on the role of the caller. With one child acting as caller and another doing the music, you can sit back and think about the real cakes waiting in the staffroom!