Marvel at the magnificence of dinosaurs as they come alive in this fascinating children's information book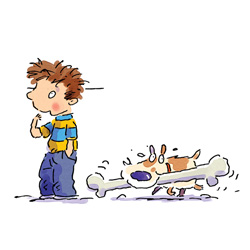 Illustrations © Mike Gordon, 2009; Taken From Henry's House: Dinosaurs (Scholastic Ltd, 2009)
There's a world of facts and fun waiting at Henry's House, Scholastic's new non-fiction series by Philip Ardagh and illustrated by Mike Gordon. Dinosaurs (£5.99 PB) is part of this new series that is all about an ordinary boy in an extraordinary house.
Synopsis
Henry and his dog Mothball love finding out about things. When Mr McGruff digs up a fossilised dinosaur egg in the vegetable patch, Jaggers the caretaker tells curious Henry all about the dinosaurs that roamed the Earth millions of years ago. Afterwards, Magnus Boffin explains to Henry that his latest experiment is to turn fossils back into living, breathing creatures. Throughout the book, Henry picks up lots of clues to try to piece together what happened to dinosaurs and how we now know so much about them. He finds information about what they looked like, where they were found and theories about why they became extinct. When he finds an indoor swimming pool in the house, Henry discovers that Magnus Boffin's quest to bring dinosaurs back to life has been quite a success. There are dinosaurs of all shapes and sizes and from lots of different eras roaming about the place.
Talking points
Henry's House is a lively mixture of facts and fiction. Ask the children how easy it is to separate out the facts from the fiction. Does it matter that some of the book is obviously a story? Does it mean they enjoy the factual information less or more? How much did they learn from the book?
Talk to the children about the different characters in Henry's house. Some are people and some are animals. Which characters do they like the best and why? How well do they think they all get on? Do the children have any pets at home? Are they anything like the pets in Henry's house?
Ask the children if they would like to live in Henry's house. What is it about the house that particularly appeals to them? Is the house big enough to squeeze everyone in?
What it is about dinosaurs that we find so intriguing? We always imagine dinosaurs to be enormous creatures but, as Henry discovers, they actually came in all shapes and sizes. Magnus Boffin tries to bring some dinosaurs back to life. Ask the children which dinosaurs they would like to bring back to life and why.
Activities
1. Comic strip capers
The Henry's House series is written and illustrated in a comic-strip style that will particularly appeal to young and reluctant readers. The characters speak in speech bubbles and Mothball, the dog, thinks in thought bubbles. Ask the children to create a Henry's House comic-strip story of their own using a basic six-frame template. Tell the children that their story can be about anything they like.
Ask them to think about what will happen in their story and how they will tell it over six frames. Will any of the other Henry's House characters feature in their story? Suggest Magnus, Jaggers, Fishcake and Mothball. They can use as many or as few of the characters as they like, and when they have pencilled out their strip, they can then colour it in.
2. Mini me scrapbook
In the 'Famous Finds' section on page 54 of the book, Henry looks through his father's scrapbook of famous dinosaur fossil finds. Talk to the children about scrapbooks – what they are, how they are put together and the sort of information that is cut out and stuck down in them. Show them how to make a mini scrapbook of their own from different pieces of coloured paper that can be stapled or stuck together. Ask them to decorate the front of each scrapbook and put their name on it. Then, encourage them to stick in information about themselves, including photos of themselves and their families (perhaps when they were younger), drawings, poems, pieces of writing, pictures from magazines and newspapers, wrappers, materials – something that reflects their own personalities and lives, or just something they like.
Invite the children to show each other their mini scrapbooks and explain why they have selected all the different bits and pieces they have chosen to include. They can keep the scrapbooks going throughout the term, updating them regularly.
3. Dinosaur directory
There are lots of different dinosaurs in the book, and each of the children is bound to have a favourite. Ask the children to select their favourite dinosaur from the books (or if they like, to find a dinosaur that is not mentioned in the book but that they have found on the internet) and compile a short profile of their chosen dinosaur.
Tell them to write down its name, its size, when it lived, what it liked to eat, where it lived, and any special marks or features (such as the Iguanadon and its famous 'thumb claw'). At the top of the profile, invite the children to draw or trace a picture of the dinosaur and encourage them to colour it in. Remind them that there are no right or wrong colours when it comes to colouring dinosaurs (see page 27 of the book). That means that if they want to colour their dinosaur all the colours of the rainbow, they can go right ahead!
READER
OFFER

!

Plus, we have FIVE SETS of the Egyptians, Bodies, Creepy-Crawlies and Dinosaurs titles to GIVE AWAY! Just visit the Giveaways section on the Child Ed PLUS website.
Ask the children why they have chosen their particular colour scheme for their dinosaurs. Invite them to give their dinosaur a nickname that suits its picture and its personality. When everyone has finished their dinosaur, display them on the classroom walls so the children have a 'dinosaur directory' that they can compare and contrast, and refer to whenever they like.