Check out what children from the Indian School Bahrain thought about some of the latest emergency-themed books for young readers
Going to the Doctor by Kate Petty, Lisa Kopper and Jim Pipe (Franklin Watts, £9.99)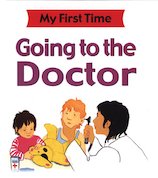 This book is about a first-time experience of seeing a doctor and will help children to understand the purpose of and need for regular visits in order to remain healthy. Our school nurse, Adhra, used the book during a 'show and tell' session with younger children and even managed to rope in some older children to enact it for her during one of the class assemblies. She found the book to be of great help, especially since immunisation time is around the corner for us.
Younger children found the illustrations very amusing, and Janahi loved the bit where Sam is standing on his toes as his height is being measured by the doctor. This triggered a class discussion about what difference this would make to the children's heights (a fruitful lesson in maths). Another of our children, Steffi, wanted to know why the teddy was wearing an eye patch.
Suitable for: boys/girls/4-5/6-7/reading aloud
Chief Rhino to The Rescue by Sam Lloyd (Oxford Books, £ 5.99)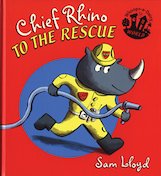 This is an interesting story about an overzealous Fire Chief who mistakes the flames from 100 candles on Great Granny Wrinkle's birthday cake for a fire. It was a real pleasure to share the illustrations with the children. Zahra loved the monkey who was headed for the toilet in the woods, and the boys of course joined in with the 'Nee-nar, Nee-nar' of the fire engine.
As well as being popular with the children, this book was a huge hit with my colleagues and I, because it fitted in beautifully with our theme of the month 'People who help us'. We were able to talk about fire apparatus, and help the children to write thank you letters to our fire service.
Suitable for: boys/girls/4-5/reading aloud/reluctant readers
Urgency Emergency! Choking Wolf by Dosh Archer (Bloomsbury, £ 4.99)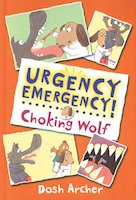 This book is a must-have for any class or school library. Author, Dosh Archer has weaved in information about the emergency services in a subtle and humorous manner. The story relates how Nurse Percy finds a little girl wearing a red coat. The girl is upset because she has lost her grandmother. When an ambulance arrives with a choking, goggle-eyed wolf, it's anyone's guess what he could be choking on. When the wolf's tummy is squeezed, out pops the little girl's Grandma 'damp and a bit chewed at the edges'!
Everyone found this book hilarious! The illustrations manage to make the characters' eyes convey a whole range of emotions, and the children loved all the action in the story. Steffi wanted to take the book home to read to her younger brother and Grandma, who was over for a visit.
Suitable for: boys/girls/4-5/reading aloud/reluctant readers
Our Helpers series (Discovery Books Ltd, £5.99)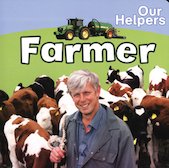 This series of books is particularly great value and ideal for younger readers when teaching them about the jobs people do and how they help us. The added bonus is the clocks that appear as the helpers' schedules unfold.
Farmer is about a day in the life of Peter, a busy farmer in the UK. Here in Bahrain, everything is imported, and as far as my class is concerned, milk comes in cartons, green grass is a luxury and trees a novelty. So, the book drew a lot of 'oohs!' and 'aaahs!'. Aahna informed everyone very proudly that she had a shirt the colour of the cow's skin. After we read this book, we visited a local farm where the children saw date trees and watermelon creepers. When Ali and Zainab told the farmer about the cows they had seen in the book, he took them to meet his camels and treated us all to camel milk, which, of course, the children didn't like!
Suitable for: boys/girls/4-5/reading aloud
Rescue at Sea by Clare Oliver (Franklin Watts, £5.99)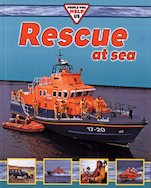 I selected this book especially because we had planned a visit by our local Sea Patrol Chief and I thought this would help break the ice when he arrived. The book provides detailed information about the Royal National Lifeboat Institution at Tynemouth. It talks about the clothes the rescuers wear, the lifeboat station, the coastguards and sea rescue. It has an extensive glossary and a list of points that children should keep in mind when close to the water. Our class plans to dramatise the book for a morning assembly. Karen was fascinated by the all-weather self-righting boat that rolls back the right way up if it capsises in a storm. The class had an animated discussion about the need and purpose of slipway (boat) launch stations here in Bahrain. Needless to say, when Sea Patrol Chief Captain Mahmood Al Sheikh visited, he was greeted with a barrage of questions from the children.
Suitable for: boys/girls/6-7/reading aloud/reluctant readers/confident readers
Planet Patrol by Mick Manning & Brita Granström (Franklin Watts, £10.99)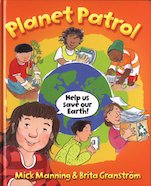 An alternative approach to 'people who help us' and 'Emergencies', Planet Patrol effectively teaches children about global warming and its effects on habitats, food and life cycles in a compelling and informal manner. In the book, Freya and her friends decide not to 'just wait for grown-ups to act' to save the planet and so start their own group called 'Planet Patrol'. Children from around the world join in and the international group of 'Planet Patrollers' talk about why they joined and their personal contributions to ways in which to combat climate change.
Raseeka, Ann Mary and their group of Environment Detectives here at our school loved the book and have been inspired to launch their own website (our IT teacher has promised to help)! Being born and brought up in the Persian Gulf region, our children found it a little difficult to understand why homes needed to be heated when discussing energy consumption. However, we have decided to turn off the air conditioning for at least a couple of hours in the evening. Ali wanted to know if climate change was the reason 'the Titanic drowned'!
Suitable for: boys/girls/6-7/reading aloud/confident readers