Dr Hannah Mortimer explores getting to know children with SEN and effective ways of recording and planning for children with communication difficulties.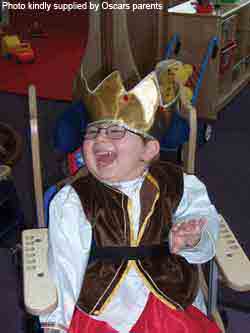 Getting to know you
When welcoming a child with SEN to your setting, start off by finding out all you need to know in order to help that child settle in. Talking to parents and carers is an obvious starting-point. They are experts on their own child and will have a great deal of information. Many very young children who have complex and long-term needs now receive Early Support. This is a Government programme for ensuring parents and carers receive joined-up support from the earliest opportunity. A key worker is appointed to work with the family and there are family-held records through which they can tell their own story once without repeating it to every professional who calls. Find out if the child you are working with is on Early Support, and if so, contact the key worker.
Getting to know children quickly
Home visits (where possible) allow you to get to know children on their own territory before you work and play together in the setting. They are a way of gathering information and also giving the child, the family and yourself greater confidence.
Use a welcome form or child passport to gather information about a child's likes and dislikes, how the child makes their needs known and what level of support the child needs from you throughout your regular routines and activities.
Now you have met and found out more about the child, think through your typical session from a child's-eye view and visualise the barriers that the child might face.
Plan the first few days carefully. Make a point of keeping closely in touch with the family throughout this period so you can share good news long before you need to share any concerns.
Play alongside the child as often as you can so you develop a feel for how the child learns and behaves and form a positive relationship together.
Once the child has settled in, stand back slightly, in order to observe them playing independently, and assess the level of support that is needed on a daily basis.
Child passports
One way of helping colleagues tune into and include children who have severe and complex needs, and who may not be able to communicate clearly, is to develop a child passport for them. In the passport, you can include pages on 'all about me', friends and family, any special equipment and aids needed, communication, eating and drinking, medical information and contact numbers and action to take in the case of emergencies.
Oscar is still in the early stages of being able to communicate clearly, so his family created a 'communication book' for him. It is laminated for easy handling and can hang from his wheelchair. The passport allows Oscar to communicate his needs quickly. Each page has a photograph of him portraying a certain emotion, for example, happy, sad, hungry, and so on, allowing others to interpret what he is communicating from his expressions and behaviour. Each page also gives a suggestion for how to help, for example, 'If I look like this I need a cuddle!'.
Open-ended planning
The following looks at one way of observing and monitoring how a child with SEN is progressing so that you can plan the next steps.
Prasarn's story
Prasarn is four years old and has been diagnosed with Autistic Spectrum Disorder (ASD). His teacher looked at the Areas of Learning and Development in the Early Years Foundation Stage (EYFS) framework and decided, based on what she had found out about ASD, and about Prasarn, that there are some learning areas he would have difficulty accessing. One of these was the focus on 'Dispositions and Attitudes' within Personal, Social and Emotional Development. She looked at the typical developmental stages that children might progress through towards the Early learning goals and talked to the Special Educational Needs Coordinator (SENCO) about the barriers faced by children with ASD.
For example, under 'Dispositions and Attitudes', she looked at how Prasarn might signal his likes and dislikes, given that he tended to play 'in a world of his own'. She came up with the stages that she would like to see Prasarn progress through.
First steps for Prasarn
Signalling his likes and dislikes:
First, he will behave in a way that allows us to interpret his likes/dislikes
Then we would like him to indicate a choice by grasping
Then to indicate a choice by looking at it
Then to indicate a choice by pointing at something
Perhaps in future, to indicate choice using words.
Play plan
Further information
Visit Scholastic's homepage for books in the Special Needs in Early Years series written by Dr Hannah Mortimer.
Prasarn's teacher drew up a simple play plan, which she shared with her colleagues. They looked at how they could all encourage the first steps in this plan and work towards one of the targets in Prasarn's individual education plan (IEP). She shared this with Prasarn's auntie who supported him at home.
I like it!
Prasarn's play plan
Area of Learning:
PSED
Focus: Dispositions and Attitudes
Individual target: Behave in a way that shows what I like/dislike
Observe Prasarn during free play and note down his choices and length of time with each activity.
Observe what makes Prasarn happy, sad, angry, anxious, bored and so on using photography and descriptions. Make this into a communication book to share with colleagues and family.
Offer a choice of two playthings at once for Prasarn to look towards, reach for, point to or ask for.
Try to teach a yes/no response by asking 'Do you want this?' and holding up one toy at a time. As Prasarn selects, emphasise 'YES – this one!'.
Offer a choice of drinks/playthings/snacks in succession, helping Prasarn to give you a yes/no response after each item.
Try to share Prasarn's favourite game, moving in to play at the edge. Share your enjoyment in it so that Prasarn can see and hear how you express your pleasure.
Introduce phrases such as 'Which does Prasarn like?', 'This is Prasarn's favourite!', 'Prasarn doesn't like this one!' and so on. Use your tone of voice and expression to emphasise the feeling.
Gather favourite playthings into a special box for Prasarn. Try to alternate playing with something from the favourite box with something else. Do not force this and provide plenty of support, showing Prasarn how to play.
If creating a play plan, try to make it visually appealing to the child by drawing each target in a fun illustration such as a football, cloud, cloud, balloon and other fun shapes.