Michael Rosen has been appointed the new children's laureate. He talks to Charlotte Ronalds about poetry, phonics and why teachers should reclaim the classroom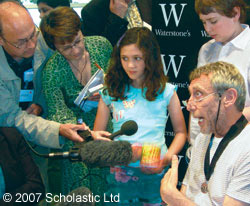 Michael Rosen being interviewed
Michael Rosen looks thoroughly fed up. He is bent over, wheezing and trying to dismiss an imaginary microphone. He has just suffered a shock defeat in a race at the hands of a tortoise and doesn't want to talk about it. In an instant his posture changes; he leans back in his chair, starts chewing and casually says he knew the hare was all talk. Suddenly, his body snaps into another position. He hunches up, cups his hands around his mouth and, à la David Coleman, launches into a race commentary. It is, quite honestly, amazing to witness.
Rosen, who was inaugurated as the fifth children's laureate last month, is using Aesop's fable to demonstrate just one of the ways to get children enthused about literature. This is something he plans to focus on a lot in his laureateship over the next two years. His mission, he says, is to put the excitement back into reading and to encourage teachers to 'liberate themselves from the vice-like grip of the Literacy Strategy'. So, not a big ambition then?
'A long time ago it was said that you only really know whether your teaching is working if it spreads like an infection. That's what I think teachers should be doing: spreading the infection of literature. So kids are saying, "Hey, did you see that bit in assembly, Miss? You know, when they did that rap poem about picking up litter in the playground. Can we do that?" Then you know it's working.'
With his six foot two inch frame, bulging blue eyes and squiggly beard, Rosen oozes infection from every pore. The fact that he is 61 (not that he looks it) makes him even more remarkable. He's bursting with energy and, despite a gruelling day of interviews, shows no signs of fatigue. He talks six to the dozen about schools and reading, but his eyes really start to twinkle with the mention of poetry. For 35 years Rosen has been going into schools and enthralling children with his one-man poetry show. He's like a teacher on tour. In fact, the last time I saw him was 15 years ago when he visited my primary school. 'Did I?' He tries to recall.
Literacy is just a silly, demeaning word
With so much enthusiasm and drive, Rosen is clearly the right man to take over the laureateship from Jacqueline Wilson, his predecessor. I ask if it was an easy decision to make. 'I've been advocating children's literature since about 1980, so I'm just going to make sure that now I'm doing it under the laureateship, as opposed to Michael Rosen. It's great, people ring me up and say, "Hey, we could help you with this lovely idea" and I go wooh, you know, perfect. Yeeeees,' he exaggerates the word with glee. 'Now we're talking; now we're cooking.'
Another thing he wants to develop is a poetry website, a kind of YouTube where poets and children will be able to post their performances. 'All I need is a bit of lolly to get it going. But it could be so infectious, couldn't it? Because the great thing about the internet is that it makes the population intimate. We're all doing it and it's fantastic, so exciting. Perdoing!' He bounces a finger off his head.
The poetry website comes under his 'Diverse verse for all' message; the idea that for every kind of thought or feeling, there's poets and poetry out capturing it. At the moment, laments Rosen, the way poems are being used in schools is a tragedy.
'There's some strange way that the Literacy Strategy takes poems away from the children. In other words, they don't get to possess them. To tie poetry to learning objectives is a disaster. The first thing teachers do is say, "Here's a poem; quick, I've got to ask the children some questions about what kind of poem it is." I say, if you're going to ask any questions at all, ask ones that you don't know the answer to. Try asking, "Does this remind you of anything? Are there any questions you'd like to ask about the poem? Are there any questions you'd like to ask anyone in the poem? Are there any questions you'd like to ask the writer? Does anyone want to be the writer of the poem?" You don't know what's going to come up then. So you're less concerned with learning objectives and more concerned with people having fun and exploring things. Perdoing!' Another flick off the head.
Rosen thinks all schools should throw out the Literacy Strategy and empower themselves by creating their own, more creative strategy. You can't accuse him of holding back. 'It's a hoax to say you've got to deliver literacy in a certain way and in the sequence the Strategy tells you. Actually, don't call it literacy, why bother? Literacy is just a silly, demeaning word that narrows down this massive wonderful thing called language and literature. Call it "language and literature", that's what it is.'
Back in 2003, Rosen and many other respected children's authors signed a statement criticising the way the Government says reading should be taught. He hates the way children don't get to read full books, loathes how they only dissect extracts or use reading schemes. What really gets his back up, though, is what he deems the 'fraud' of synthetic phonics.
When people say they're using synthetic phonics, they're fibbing
'When people say they're using synthetic phonics, they're fibbing; they're teaching in the context of the word. I say, the very least they can do then is to enable children to enjoy the word in some way. You see, I've got this extraordinary idea: when you learn to read, you read. I'm 100 per cent in favour of using phonic cues, I'm in favour of visual cues, I'm in favour of every possible cue. Reading is too valuable to be reduced to just one thing.'
Without reading full books, Rosen fears children will lose the reading bug altogether. 'There needs to be a buzz around reading. It doesn't just magically become something interesting simply because you can read the words. There has to be a conversation, there has to be a way of exploring it.' He looks serious. 'Now, if you don't think that's important, you the Government,' he jabs an accusing finger in the air, 'just say so.'