Take a look at our weather and nature-themed ideas: from how to construct a weather station to an array of art activities
Come rain or shine, there are plenty of cross-curricular links to be made with nature and the elements.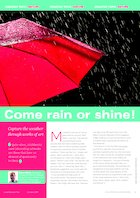 Explore the weather through works of art with some fantastic ideas from Robert Watts. You'll find practical activities inspired by the Sun, the wind and the rain.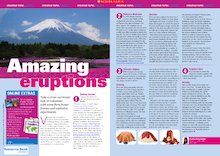 Take a cross-curricular look at volcanoes with some fiery freeze frames and explosive experiments! Plus, a stunning ""poster.
Folklore, forecasts and a whole lot of fun! Take inspiration from our fascination with the weather with some exciting cross-curricular activities: from forecasting daily weather to investigating clouds; to building your own weather station to weather and animals.
Plus, search our archive of resources for many more weather and nature-themed resources.