With the 35th anniversary of Meg and Mog, the series' illustrator, Jan Pienkowski, reflects on a career in illustration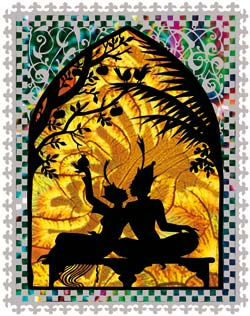 The figures represent Aladdin and his bride, the Princess al-Badur, taken from Jan Pienkowski The Thousand Nights and One Night, published by Puffin Books
The first illustrations I remember doing were for a little book, in Polish, which I did for my father's birthday in 1945, as the war ended.  It was a story of road rage. As there were no cars in those days, it involved a bad-tempered man who gets  his just desserts in a horse and cart. The following year I came to England. I was nine and had never spoken English – until my father sent me to boarding school where I never spoke anything else, so I picked it up pretty quickly.  However, it was not my mother tongue and that may be the reason why I decided to go for images as a career.
All the time through school and university I went on drawing and designing posters  offered to me by friends in university theatre. This led to my first job, in advertising, where I learned about the perpetual battle between images and text. The next job was in publishing, which started me off on book jackets and, subsequently, illustrations. My first co-author was Joan Aiken; she was a gift to an illustrator – her prose created the pictures in my mind. To begin with she wrote the stories and I did the pictures, but occasionally she would change a bit of text to suit my drawing. Eventually, we did it the other way round – I did the pictures first and she wrote the stories around them. Both ways, it was always fun and a challenge for both of us.
Next, I was lucky enough to work on the BBC TV programme Watch!, where I learned to draw live to camera. This was very frightening but it gave me a strong, firm line, which came in very handy for the Meg & Mog books that Helen Nicoll and I created together. The colours of these books were the most vivid and primary that I could get. They were inspired by memories of Polish traditional art, cut-paper pictures and Christmas decorations, which gave me the boldness to juxtapose these violent colours and get them to work.
For my first children's book commission I produced a finished colour picture with great toil. It involved a city skyline with a set of characters flying  on a pie in the sky. I was happy with the picture on the whole but not happy with the faces of the figures. Fortunately, the fact that they were all in profile as they flew from left to right gave me a brainwave: putting my brush in Indian ink I painted them over in black. My deadline was up. I put the picture, wet ink and all, on the car seat next to me and drove to the publisher. When I got there the picture was dry and, what's more, they accepted it. That led to my love affair with silhouettes, whether done in ink, on a computer or cut out with scissors. The cut-paper tradition was also the gateway to pop-ups, which were a great voyage of discovery.
I carry my sketchbook everywhere I go and try to draw the people on the bus or the train when I have a spare moment. However, for my books I have to see the characters and images in my head before I create the picture. I don't like doing roughs. The first go is the best – it has the spontaneity and sense of risk and adventure.