Lesley Sudlow speaks to The Gruffalo illustrator Axel Scheffler about his new book, Tiddler
Axel Scheffler was born in Hamburg, Germany. He went from school to study History of Art at the University of Hamburg, but after starting the course, he knew it wasn't right for him and decided to leave. He wanted to live in another country and learn a second language so he moved to England, but he still likes to make trips to Europe.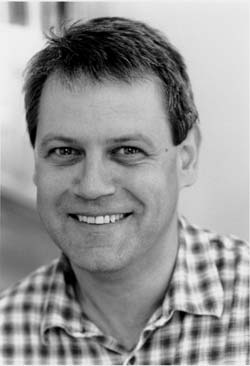 LS Who or what inspired you to be an illustrator?
AS I have always liked to draw since childhood. When I came to England I went to Bath Academy of Art to study illustration, which gave me the idea that I could make a living out of it.
LS After leaving the Bath Academy of Art, what was your first commission as a professional illustrator?
AS Initially, I illustrated for a selection of different English and German magazines and newspapers, then Faber commissioned me to illustrate the books The Piemakers by Helen Cresswell and The Bottle Rabbit by Bernard McCabe.
LS You often illustrate Julia Donaldson's stories, for which you have both won many awards. The Gruffalo, published in 1999, has become a modern classic, with more than two million copies being sold worldwide and translated into 30 languages. How and where did this partnership begin?
AS Julia wrote a book called A Squash and a Squeeze in 1992, which was the beginning of our collaboration. She sent the text to her publisher, and a friend of mine, who was working there at the time, recommended me to illustrate it. Julia and I met at the launch party afterwards and have stayed good friends ever since.
LS Tiddler is the latest picture book by you and Julia to hit the bookshops. How long did it take you to illustrate this?
AS Actually, it took me longer than I expected it to, about five or six months.
LS Do you and Julia sit down and talk about how she imagines the illustrations will look or does she just leave it to you?
AS We never really meet to discuss anything. Julia will write a book and send it to her editor, who then passes it to me to illustrate. Julia sees my sketches and makes comments, but we don't usually interfere with each other's work, so it's fine!
LS When you're not drawing, how do you like to relax?
AS I enjoy reading, walking and listening to music.