Friday was Poet's Day at Brooke VC CofE Primary School
23 September 2009
Add to My Folder
Last Friday, 18th September, was Poet's Day at Brooke VC CofE Primary School in Norfolk, as the school celebrated winning the Literacy Time PLUS Performance Poetry Competition with a visit from poet Paul Cookson. Helen Watts reports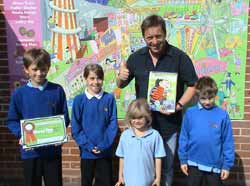 Brooke VC CofE Primary School children receiving their 1st place award certificate from Paul Cookson.
From poems about steamy rainforests, slippery sea creatures and infuriating football referees to poems revealing what the class gets up to when the teacher isn't there – there was no shortage of creative poetry ideas when Paul Cookson visited Brooke VC CofE Primary School in Norfolk last week.
The school had won first prize in the Literacy Time PLUS Performance Poetry Competition which ran earlier this year, and a day's workshop with Paul Cookson was part of their top prize.
Paul launched the day with a whole school peformance, delighting his young audience with favourites like 'Mr Shadow's Shoes', 'The King of All the Dinosaurs' and David Harmer's 'Mr Moore', as well as new poems from his recent collection I'd Rather Be A Footballer (Macmillan).

He then spent the rest of the day working in different classes – from Reception to year 6 – helping the children to create their own performance poems and giving them the unique chance to find out, from the man himself, what being a full-time poet and performer involves.
Friday is Poet's Day!
Paul Cookson set the school alight, With verse and rhyme that gave delight. The children learned some naughty chants, 'Bout teachers, Grans and burning pants!
His ukelele twanged and thrummed, Whilst teachers squirmed at talk of bums! The actions helped creative flow, So even Fergy had a go.
Each class got in upon the act, They worked inspired and that's a fact, Poems came both thick and fast, A brilliant day that sure will last.
Young poets who will write and rhyme, With great success if given time. Paul Cookson may gave gone away, But Brooke School poets are here to stay.
Mark Ferguson
Paul's visit not only inspired the children and teachers at the school, it even got the headteacher writing: he penned his own poem about the day for that week's Friday newsletter.
How they won
Schools entering the Literacy Time PLUS poetry competition were invited to submit a written anthology of 15-20 poems on a theme of their choice, plus an audio recording or film of the children performing at least 4 poems. The judges were looking for:
evidence of the involvement of children of different ages and abilities;
originality, with interesting and unusual voices and approaches;
performance skills, with single and group voices and a variety of styles, techniques and genres;
fun, playfulness and the enjoyment of words.
For their winning entry, every class at Brooke VC C of E Primary School got involved, each working on a different theme or poetic style. They started by reading and performing poems by famous poets – including Brian Moses' 'Walking with My Iguana' and Wes Magee's 'Boneyard Rap' – before writing their own class poems. Some children also wrote poems individually and in small groups. They performed their work to the school on World Book Day before rehearsing and performing their recording for the competition.
The judges were unanimous in their decision to award this entry 1st place, being extremely impressed by the quality of the audio performance. The performers were clearly having fun, and their use of percussion and sound effects was particularly successful, with the rhythms and variety of voices used being very effective.
To hear children from Brooke VC Primary School performing their poems, click here.
As well as the day's workshop with Paul Cookson, the school also won a subscription to Literacy Time PLUS; publication of their poems in Scholastic's We Are Writers! book series plus 20 free copies; and a Paul Cookson poetry book pack.