This multimodal text is a collection of recounts of four famous historical events – the Ancient Olympic Games, Great Fire of London, Gunpowder Plot and Great Exhibition – told from the point of view of famous people involved in them.
It provides an alternative to paper-based text for children to access and research information supporting cross-curricular work. Each event introduces relevant vocabulary likely to be new to the children. For each event, key information is accessed in the same way: clicking on the narrator reveals a speech bubble and activating hot spots provides additional text boxes and some sound effects. The content will also support older children in themed work and research.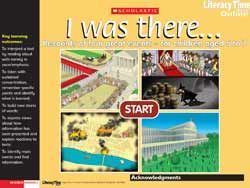 Shared teaching and learning
Before using the resource
To ensure that the children understand something of the chronology relating these four events to other events they have studied, use On-screen resource 1 which provides an interactive timeline.
Have ready a good selection of fabric and clothes to support role play linked to the four featured events, in order to aid comprehension. You may wish to gather resources to enable you to make other curricular links to enrich the learning experience – eg, materials to build an exhibition centre or streets of houses in design technology.
Further reading
The Gunpowder Plot (Cherrytree Books Dates With History series, 978 18423 45368). The Great Fire of London Stewart Ross (Evans Start-up History series, 978 04311 23370). See our author profile of Stewart Ross here. How do we know about? series (Heinemann Library): The Great Fire of London Deborah Fox (978 04311 23370); The Great Exhibition Jane Shuter (978 04311 23523) The Story of the Olympics Minna Lacey (Usborne Young Reading series, 978 07460 84390).
Shared reading, speaking and listening
Recap features of recounts. Refer to the activity sheet below, which provides a useful reference for writing or telling an interesting recount.
Compose orally recounts of significant personal events (eg, birthdays, family events, holidays, visits or visitors) and encourage the children to share these with a partner.
Discuss a recent major event relevant to your school and, together, retell the event from different points of view.
Introduce the on-screen resource, using each event to support a recount unit or just one to link with a theme or topic.
Look together at the scene. Explain who the narrator is and their significance to the event. Recap any prior knowledge about the event. (1)
Working in pairs, ask the children to describe the scene and discuss what might be happening.
Now click on the narrator and share-read their speech bubble.
Together, explore the scene, looking at illustrations, clicking on the hot spots and share-reading any pop-up text. Collect any new vocabulary and add it to your word books or working wall.
Try freeze-framing the scene – or part of the events described.
To help the children empathise with the characters, use thought-tracking, deciding what other characters might be thinking – eg, a spectator at the Olympic Games, someone fleeing from the Great Fire (see the play script in Leaflet 1), one of the plotters in the Gunpowder Plot, or a visitor to the Great Exhibition.
Literacy Framework
See the Using this issue chart here to identify the Learning Objectives covered by these activities, to track progression from Reception through to Year 3, and to identify links with Year 1 and 2 Planning Units.
Guided and group activities
Set up your role-play area to reflect one of the four themes. Allow the children to re-enact the events and create their own play and then write recounts.
Build your own Great Exhibition using artefacts and pictures, including some which reflect the cultural heritage of the children in the class. Invite the school 'public' to visit.
Stage a mini ancient Olympic Games. Include poetry and singing competitions.
Set up a small house or trade workshop, explaining that it is situated close to the oncoming fire and children must convince their family and friends to leave London. (Link to Leaflet 1.)
Set up a puppet theatre. Make stick puppets of the key people in the Gunpowder Plot. Use a narrator to tell the story. Practise group performances.
Plenary
Encourage the children to express their opinions about the way information was presented in this resource and compare this to information in books.
---
(1) One useful method here is 'Quick Fire Banking' as modelled in the Primary Strategy Talk for Writing pack, (DCSF, ref 00607-2008PCK-EN). Available to order online or from DCSF Publications. More information at nationalstrategies.standards.dcsf.gov.uk/node/163592.