Inspire children to learn the alphabet by making letters personal. This second article in our series by Helen Bromley involves using photos of the children to create unique alphabet resources, and comes with some free downloads for the letters INMD, with compliments of Yellow Door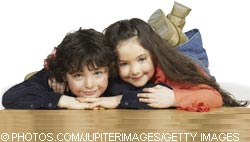 m is for me! provides everything you need to create personalised alphabets, both on screen and in print. The following ideas suggest how you can try this out in your own classroom, involving the children in putting together their own pages for four sample letters – I, N, M and D – using digital photography and even video. While making an alphabet with the children in your group, you will be:
producing a resource that is tailor-made to the needs and the interests of the children;
able to use objects, places and images with which the children are familiar, and which reflect their individuality, culture and locality;
giving the children an increased sense of ownership and thereby greater motivation to use the materials they produce;
creating valuable opportunities for talking about and demonstrating the relationship between spoken and written language, and for building on what children already know and can do.
I spy something beginning with
INMD
Explain to the children that they are going to be collecting photographs to make letter pages in an 'ebook' that will be illustrated with photographs of themselves.
Work with small groups of children to collect a selection of objects for each of the letters I, N, M and D. As far as possible, let the children select their own objects – this in itself provides a valuable learning opportunity. But remind them to look outside as well as inside, and talk about the different items they might choose. You can make suggestions, listen to their ideas and work with what they know and are interested in. You could also ask the children to bring in objects from home.
Next, take photographs of the children holding their object(s). You could also send the digital camera home, so that photographs can be taken in a domestic setting and your collection of objects can include items that are very important to the children at home, such as a computer game console, a pet or a toy.
These ideas and activities are taken from Helen Bromley's m is for me! and are reproduced by kind permission of Yellow Door. The m is for me! book and CD-ROM provides templates, images and straightforward instructions for creating a range of alphabet books, ebooks, cards and resources, both printed and on screen.
For further information about m is for me!, visit www.yellow-door.net or call 0845 603 5309.
If you enjoyed using the free downloads accompanying this article and would like the complete alphabet, take advantage of our special reader offer and get a 10% discount on Helen Bromley's m is for me! (usual price £25 plus VAT).
Creating letter pages
Download the taster ebook pages for the letters I, N, M and D below. These are available in SMART™ Notebook, Promethean ActivPrimary and Microsoft PowerPoint formats.
Now insert your photographs onto the pages and edit the text underneath. This is relatively easy to do but, if you would like some help, go to the instructions page and click on the 'Show me how' links for a step-by-step tutorial.
You can copy the pages as many times as necessary to accommodate the photographs you have taken.
Completing the text box on the pages with the children offers a range of teaching opportunities. You could complete it in a variety of ways:
with a single letter, such as 'd' or 'D';
with both the upper and lower case letters;
by embedding the letter in a simple sentence – eg, 'motorbike begins with m', 'i is for ink', 'I spy, with my little eye, something beginning with n' or 'd is for digger, daisy and duck'.
The children may have other ideas, too!
When the text has been completed, share the pages with the children. They will be eager to see themselves on screen. Talk about the letters on the pages: their sounds and names. Before opening a page, can the children guess which object might be showing? Do they know anyone whose name begins with that letter?
Active alphabets
So far, your letter pages have focused on the names of objects (nouns). Next, why not create alphabet pages using adjectives, verbs and even adverbs? In this way you can combine phonics teaching effectively with work on grammar while enhancing the children's vocabulary. And why not add video clips to the pages? The children could video actions for the verbs and adverbs. Ask them to think about how they might like to move – challenging them to keep the initial sound the same; perhaps they will dance deliciously, nibble naughtily or measure magnificently.
When you have all decided what actions you will use, work in small groups to plan how to do the filming.
Collect the video clips, ready to be imported into the alphabet template. Adding clips from a video recorder is quite straightforward using Microsoft PowerPoint, so you might find it easiest to use the PowerPoint format for this activity. Each download has its own step-by-step tutorial, which you access from the instructions page.
Once the letter pages have been videoed and text has been added, show it to the children – they will undoubtedly want to see it many times!
The children might think of other video pages that could be created – eg, moving toys, or identifying objects that move in the environment and filming those.